"My name is Bruno Rosolem, I'm 33 years old, I'm from São Paulo and I have a degree from ESPM on graphic design. I've always worked with communication, marketing, branding, photography, with anything that's visual, and aesthetic. And I think that sneakers and fashion have lot to do with it, not only because I work at Fila, but because I share the same universe theses things manifests themselves. So, I can recognize and understand the cultural aspect when we are talking about sneakers, and all the history it has been through.
I've never really worn shoes, I think I might have worn like a boot or a moccasin once, but sneakers are what I wear to work, when I go out,  when I go to the bakery, to do activities, run, to skate – I use to skateboard, and I tour up a lot of sneakers."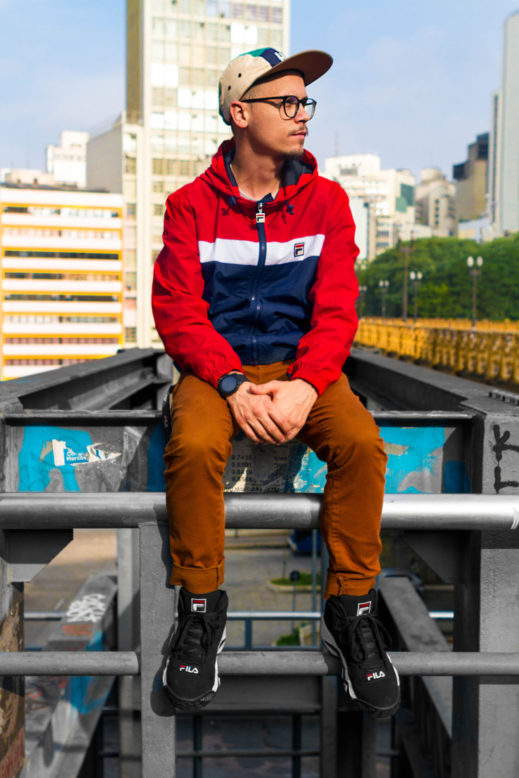 Do you have any relation with the sneakerhead culture?
brunoI get them, I understand them, we attend the same places, but I don't see myself ever being a sneakerhead, because the way I use my sneakers, I don't think is the same way sneakerheads do. They clean and take care of them and keep them stacked, but even though I appreciate a sneaker with a iconic and emblematic silhouet, I believe my relationship with sneakers is a different one. See I don't collect them – I beat them, I use sneakers to beat them up.
But I admire and respect them, and I think is them who keep the historic aspects, all the information and even theorie alive. They are researchers, they have the stories, they collect the pictures, they have the databank with images and videos, they're like the encyclopedia of sneaker universe. So I admire these guys not because of their collections, but because they are the ones who disseminate the sneaker culture.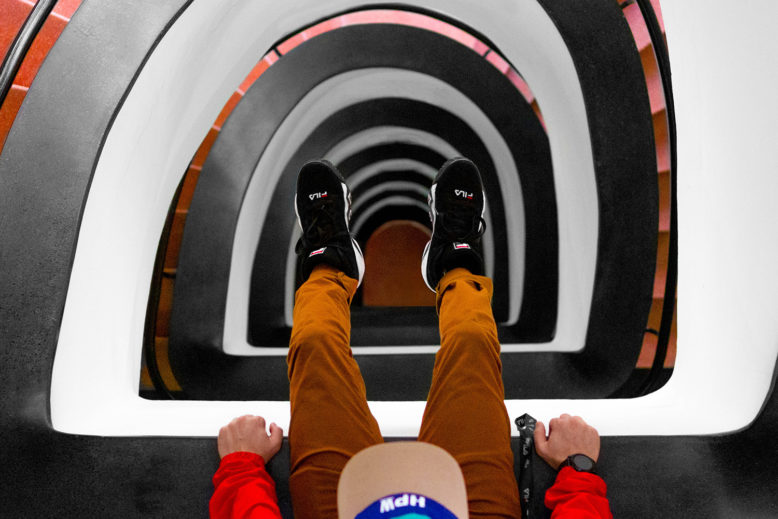 And what's your relationship with this Fila?
brunoWhen people see this Fila MB in the showroom, their eyes light up. It's a different shoe from all the rest. He's a basketball classic, and there are others with similar silhouettes, but I think  the extended rubber outsole on the heel and the toe cap is what sets him apart; the african like drawing on the the outsole caging the foot, I don't know where this reference came from. Its robust shape, is one of the things that makes him draw so much attention.
I wanted one of these for a long time and now I have the black one and a white one. Everywhere I go people go "Damn, dope kicks!". I think they're dope not because of their materials or their tech, but because they got such a strong identity, without being over the top. This sneaker really holds his own because of the huge drawing, its robust shape, I think he harmonizes well with its big and bulky silhouette he has.
Do you have any specific story to tell with them?
brunoI went to Lollapalooza with them and it was a pretty cool day, we went to the Chevrolet VIP area where food, drinks, everything was on the house. I had never been to one of these before and it was a pretty fucking awesome experience. I was at the The Weeknd concert, and right before the show started I went to get me some beers and it took forever, so when I went back I thought "nevermind trying to find the rest of the guys now, I'll meet them at the meeting point after." So I watched the entire show by myself, and it was hallucinating, it was the kind of show you really dance you know, you just fucking crazy and damn, it was a pretty Awesome day.
I was feeling bad about using them brand new, with the suede upper, I was scared to fuck him up, even though people told me there was lots of dust because of the gravel, but he came back ok, and I didn't clean them till now. But I was pretty careful right, like don't step on my feet, I would dodge people, and watched my step.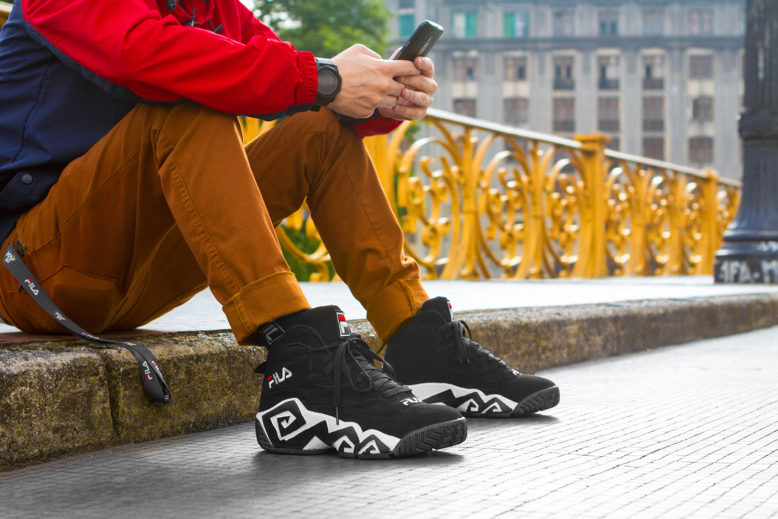 Do you have anything else to say about them?
brunoAh, I chose this location for the shooting, because not only is it the overpass where I live, but I really like living in the center. I transformed my life coming to live here. I left Perdizes, where I had comfort and etc. and I gave it all up to live here. It's been new stuff every day, and it's easier on the everyday basis, and it's all part of the sneaker culture – You are always on the move trough the city, and I think the center really represents this culture.
Fila MB
Owner: Bruno Rosolem
Bought: 2017
Size: BR39/US8.5
Photos by: Kickstory