Dea works at @ichibanstore at Galeria do Rock in São Paulo and has a long history with sneaker culture. A collector since the age of 14, working with sneakers since she was 16, Dea told us more about her strong opinions and stories that she has gone through during these years that she has been in love with sneakers.
"My name is Andrea, I'm 30 years old and I collect sneakers since I was 14 years old. I work with sneakers since I was 16 and I don't intend to do envy thing else in my life, I like sneakers, I like the stories, I like seeing people leaving my store with some dope sneakers on that I sold them.
I liked sneakers when there wasn't that many around to buy, I bought my first pair of Air Force 1s back in 2008 when they cost only 200 reais. Nowadays they're way more expensive because of the demand for the shoes and because it became common, it became something that everybody has and it stops being something out of love, now it's all about having and not being. Sneakers are status and your collection defines who you are, it's your story.
I don't consider myself a sneakerhead because I believe it's just a label, I'm not going to buy a Metallica Vans if I like Rap, there are some sneakerheads that buy it just because they can. I cop the ones I like, those that are me, those that I fought for. Sneakerheads are those who might have 4 pairs of sneakers that mean the world to them, instead of having 200 meaningless pairs. People come up and say "I want all those Jordans" and just want them because they want them, even though that's not you, you don't even like basketball, you know? Nowadays sneakers have been vulgarized, it's cool for who sells sneakers, I think it's great when some guy comes in the store and buys a Chris Paul without knowing who he is, he's going to pay 700 bucks and I'm going to pay my bills.
I had to work this within me, because to me sneakers are my love, they're stories. For example, I'm not a fan of running shoes, if I wanted to buy one I would have to go to someone who knows and studies about these sneakers. Sneakers are a piece of information, those who don't wear them will never understand. Now for us who like sneakers, it's an identity. The sneakerhead label limits you, I'm just a sneaker lover. Nowadays is hard to talk about sneakers because it's become more about status than just your identity.
Today whether it's in your sneaker groups or the places you go to, you are what you wear, if you're not wearing a Jordan 3 White Cement that costs a thousand bucks, you're nothing. Now if you have a Öus that you got as a gift from them when you visited their factory, people don't respect you. Sometimes my boss brings me some Jordan 4s that he gets on outlet stores for 20 bucks, it's nothing to them, but to me, it has a huge meaning."
Tell us a little bit more about when you started liking sneakers so much.
deaI was 11 years old and I would look at girls wearing sandals, dresses with shoes, and I didn't wear that kind of stuff. I would ask myself "does it look good with sneakers?", and when I was a teenager Lily Allen ccame along with awesome outfits with sneakers and dresses and that inspired me. When I wear shoes it feels like I'm wearing a costume for some party.
Shoes have always been something hard for me because when all the girls were wearing shoes I was wearing sneakers, even though back then it wasn't as easy buying sneakers as it is today. I confess that I'm a bit ashamed of the collection I have because I changed my concept of being, and having, in the sense that it's too many sneakers and I that I missed out on a lot of things because of sneakers. As I got older and started going to therapy, I learned that it's better to be than to have, and today my collection has more quality to it. Today I only buy the ones that really mean something to me, I'm going to save my money to get it. Now buying them just so you can show your friends your collection when they go to your house, I don't think like that anymore.
At one point I had up to 200 pairs in my collection, today I have 50 high-quality ones. When you start looking at sneakers just as sneakers, you realize how futile people are, I had 200 pairs and you know, it was horrible, I bought like 3 pairs per week, sometimes more than 10 in a month. Later on, I realized that you grow up and you start understanding what is to have money, how to spend it and etc. Some young kids come up to me and say "My biggest dream is to have an Yeezy Cream white", but bro, why do you want it? What meaning does that sneaker have on your life?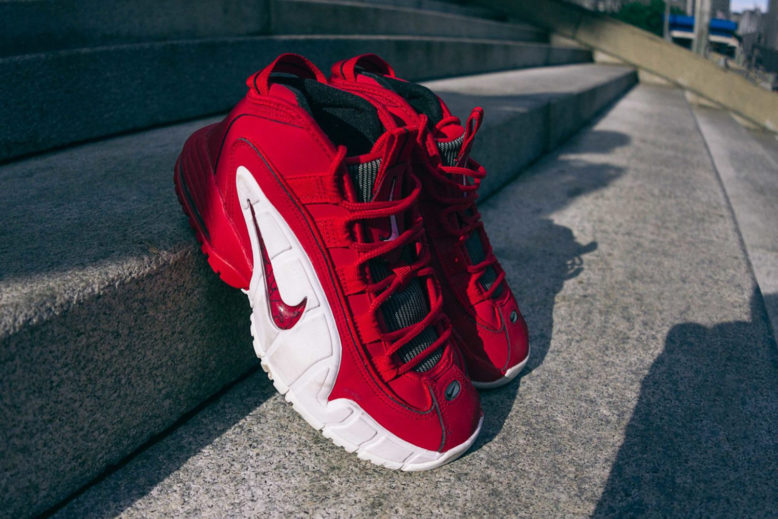 And what's your relationship with this Air Penny?
deaFirst, it's a 2014 Penny Hardaway, he was a fucking awesome player, second, it was a very hard sneaker to get, I suffered, I cried, I cried tears of blood, I thought I had lost them at the airport customs. My boss was bringing them to me and because I suffered so much, he decided to give them to me. After all, I've been through, I've realized how addicted I am, I'm a sneaker junky – I have 5 apps on my cell phone, I read about sneakers every hour, every day. It's okay being a junky, as long as it doesn't  invade your life as it invaded mine, I was almost going to sneakerheads anonymous. (laughs)
The problem is that I'm really inserted in this world and there were two episodes, that I thought "I am a junky, I need to treat myself". I was at home chilling, watching TV, when I get a picture of my friend with a huge row of GS Jordans, from the 1st to the 20th. I went crazy, I told him I didn't have any money and he said, "No, I'll bring them to you and you pay me when you can." So I got two. The other thing was when I was chilling in the store when a guy showed up with a Jordan 3 and 8 size 35, I had to get them right? It's not easy to find Jordans in my size.
Have you ever suffered any kind of chauvinism in the sneaker world?
deaLook, when I was younger I didn't feel that, because we pretended that we don't see it. But today, since I sell sneakers, people have have come up to the store saying "wow, you understand a lot about sneakers for a woman" and I say "I understand about sneaker as much as your wife doesn't understand about husbands." We live in a chauvinist society, he wants to slow you down to exalt you, it's so crazy. I feel the prejudice until today, we only know about sneakers if our boyfriends like sneakers – which in my case was the other way around, he turned into junky because of me.
I already turned down photos, interviews, because guys come up and say that woman don't understand anything about sneakers. I think that nowadays the demand for women's sneakers is growing, but they still come with little pink flowers and pastel colors. I want a Jordan and there is none, I have to get a GS! It's not women's shoes, it's a kid's shoe that fits my foot.
Imagine, I work at Galeria do Rock, which is a mans environment that has a lot of Chicanos, and basketball players, so I have to impose myself twice as much to be respected. When you say anything ina sneaker group on Facebook, the guys don't give you information they do not give you the backing because, to them, women don't know about sneakers. This is the world we live in, unfortunately.
Within the sneaker scene, there are women who are the wives of sneakerheads who end up becoming sneakerhead too, they do not have their own personality because you just can't have one inside the scene, and whoever has one, stays silent. I was banned from a sneaker group for being a feminist, the guy wrote a huge text explaining that the group was about sneakers, not feminism. But he doesn't understand that feminism is where women want it to be. He blocked me and banished me without giving me my right to reply.