*Animations and illustrations done by Ian Homem de Mello (Kickstory) – all rights reserved.*
Sheryl was the first and one of the few women to have her own sneaker line with a sports brand – in 1995, with the popularization of women's basketball, Nike introduced to the college girl that it was breaking all the records, including Bill Walton's untouchable 44 points in an NCAA final, the idea of ​​making an all-women basketball shoe signed with her name. Thus came the first women's basketball shoe, the Nike Air Swoopes (picture 1).
The Air Swoopes project was created by designer Marni Gerber, who closely followed Sheryl's daily life – her training and routines – to get to know Swoopes better and understand exactly what she needed in her sneakers. The model was lightweight and made for Sheryl's game: slimmer, less bulky; not like men's sneakers, and always prioritizing stability for her ankles and using the best technologies Nike had to offer.
Its line had 7 models in total, and we made these illustrations of the 4 most iconic ones to tell you some interesting facts: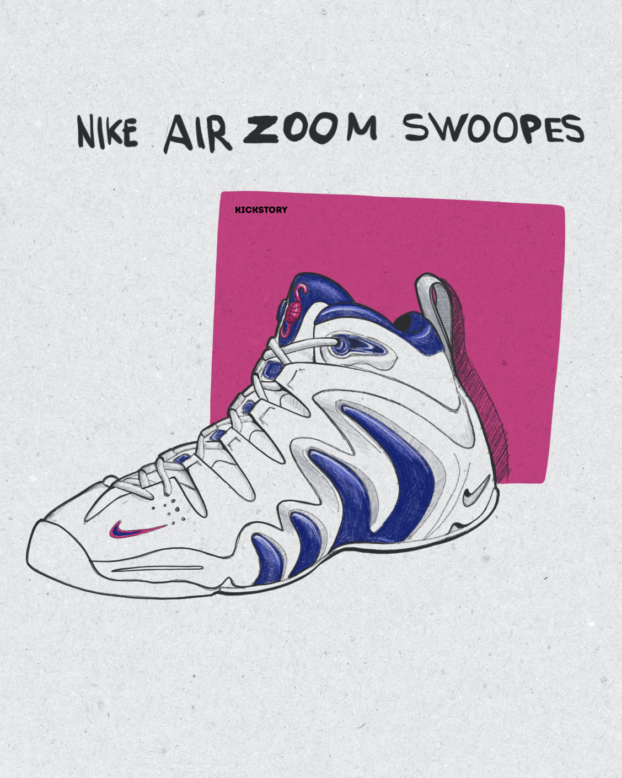 It's hard to single out a play or just one of Sheryl Swoopes' countless achievements, but we chose to animate the first triple-double* in WNBA history, with Sheryl's assist to Cynthia Cooper. *Triple-double is when a player scores more than 2 digits on 3 different statistical categories, like more than 10 points, more than 10 rebounds, and more than 10 assists.
Sheryl's basketball career was historic from the start: she led the Texas Tech Lady Raiders team to its only NCAA title; she won 3 Olympic gold medals and 2 world championships; by joining the WNBA and signing with the Houston Comets, she won 4 titles in her first 4 seasons. No wonder that in 2011 she was named one of the 15 best players of all time.
Although she was the first woman to sign a WNBA contract, Sheryl's debut on the court was delayed back to the last third of the season as she had a child, and within just 3 weeks after giving birth, she was back on the court. The same season she led the Houston Comets, along with Cooper, Thompson, and Janeth, to the first of their 4 consecutive titles, thus starting the first WNBA dynasty. In her absence, the Brazilian basketball legend, Janeth Arcain held her spot on the lineup and kept the team on top, and played alongside Swoopes in their 4 titles together.
In addition to her titles and medals she was named 3x MVP, 2x scoring champion, 3x Defensive Player of the Year, 2x Steals Leader, 6 All Star Games in which she won 2 MVPS.
While researching Sheryl Swoope's sneaker line and her career, we always came up with the same question: why are there so few performance lines signed by women? The talent is there, women's high-level basketball is bigger than ever and we have the sneaker market on the rise.
And it wasn't like that from the start, because from 1997 to 2000, four or more of the best basketball players had at least one silhouette signed with Nike. Names like Lisa Leslie, Cynthia Cooper, and Dawn Staley, not to mention Swoopes seven model signature line.
Researching her history and career was difficult; finding the dates, names, photos, and records of most of her sneakers was nearly impossible. If you ask Google: Who scored the most points in an NCAA final? It will show Bill Walton's 44 points and not Sheryl's 47.