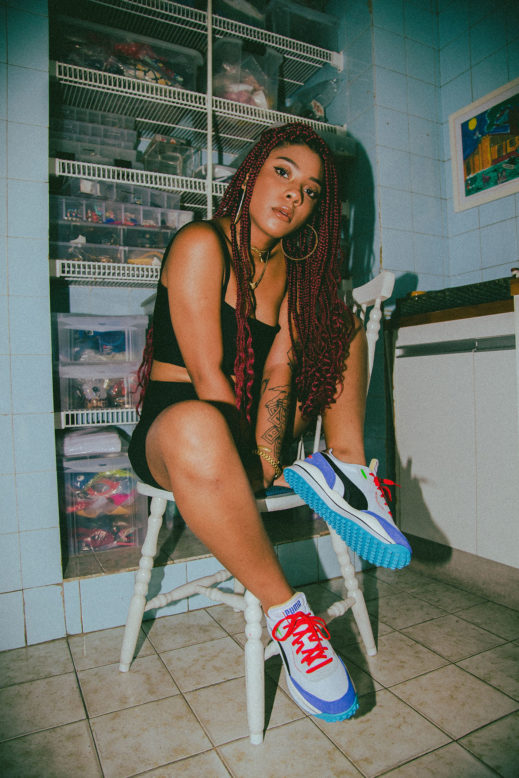 This our last interview from our partnered project with Puma for the release of the first model of the Puma Rider series, a reconstruction of the Fas Rider, a shoe from the 80s that was the foundation for running as a lifestyle, where it was no longer only done by professional athletes but, by amateurs as well.
Julia hustled to create her own brand, where she showcases her style and her talent and is able to do things her way. Today not only is it a well-known brand but it also helps her to sustain her music career as well. This interview is part of the #NoFilter campaign, where the new PUMA Rider show life as it is, and colors as they really are.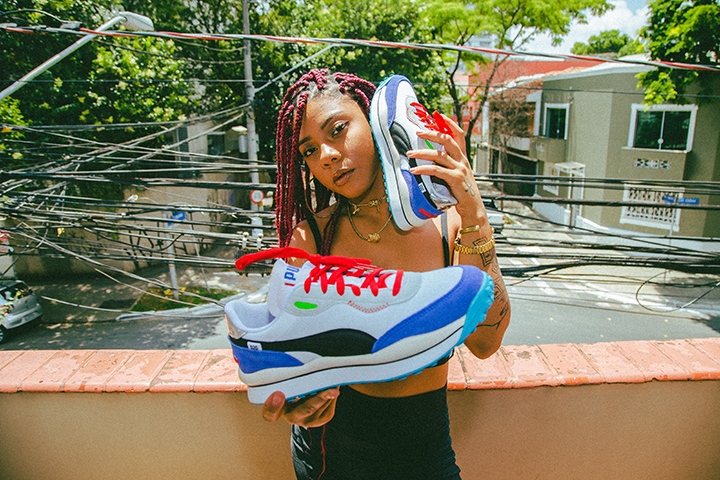 "My name is Julia and I'm 22. I work with clothes, got my own brand and I'm working to be able to make some music, too."
How did you get into fashion?
juliaI started making clothes when I was 14. I really wanted to buy things I wasn't able to, back then because I didn't have money, so I started going to thrift shops and customizing pieces. So the girls from my school liked them and I started making some for them, and they paid me, and through all of it, I began to enjoy it. After a while, I got 3 different jobs to sustain myself to make clothes from scratch, instead of just customizing. Because it was too much work, and I didn't have like pieces in stock, I couldn't do the same piece twice because it's really hard to find good clothes in thrift shops. And the time I had to produce, I spent looking for clothes, and the shops near home weren't working anymore because I already knew everything they had, so I had to go look further away. But anyway, I got the 3 jobs, and in 2015 when I was 16, I began AJULIACOSTASHOP  and doing clothes from scratch. I bought a sewing machine and tried to learn how to sew. When my grandmother saw I was really interested, she let me use hers. And that's pretty much how it went from there. Later on, the opportunity of me leaving home came up, I got myself a space and started sewing there.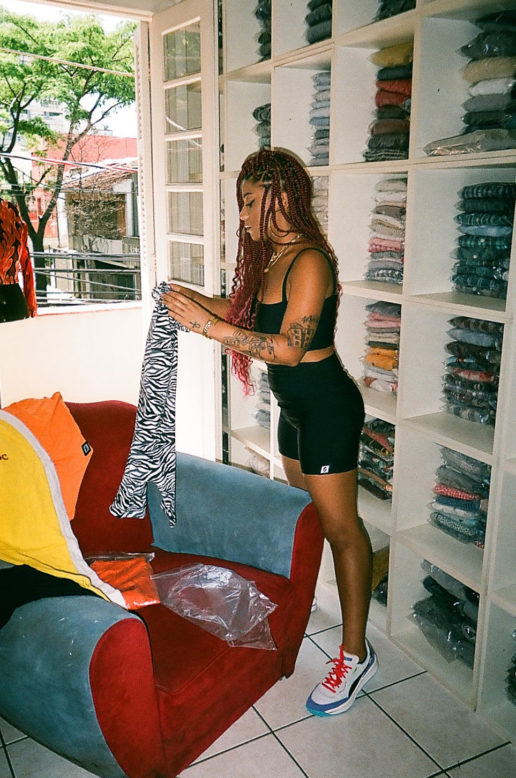 "I remember that I looked up many videos online, I tried doing some different stuff. I couldn't paint and a friend of mine could, and she'd tell me: "teach me to do something and I'll teach you how to paint". To start to sew and to really do clothes from scratch, I unraveled clothes to see how they were made."
And where did you learn to sew and to customize?
juliaMy grandmother and my mom are seamstresses, and they taught all my uncles how to sew. So everyone in my family knows and I always saw them doing it. I remember that I looked up many videos online, I tried doing some different stuff. I couldn't paint and a friend of mine could, and she'd tell me: "teach me to do something and I'll teach you how to paint". To start to sew and to really do clothes from scratch, I unraveled clothes to see how they were made. And so I started doing more and learning.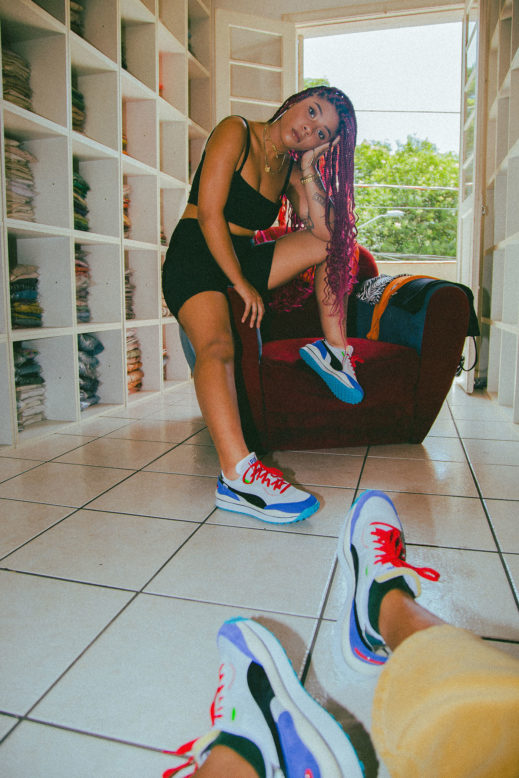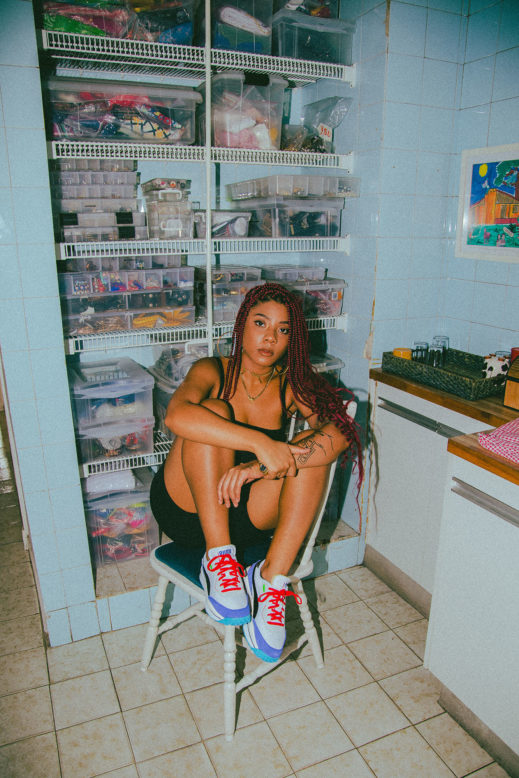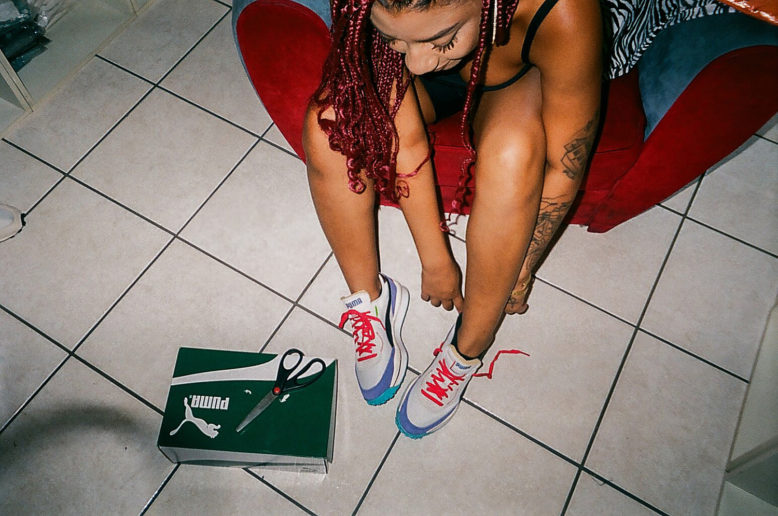 For this project with PUMA, we chose four people that are very authentic at what they do and at their work. How do you show your individuality through AJULIACOSTASHOP?
juliaBesides the dollar sign stamp – everyone knows that the clothes with this sign are Julia's clothes – I like to do basic modeling and don't really use a lot of patterns. I like doing basic, but different from what people have been using. I don't have many references, and I try using the least references from Brazil as possible. I also think how the modeling can change, for example, "I have a shirt that looks like this, but what if I did it this other way?". Because that's how I learned, by doing it, imagining how the modeling could be different. I don't even draw it out, I can't draw, but I know how to think it through. And I cut and sew, so I can try out different things.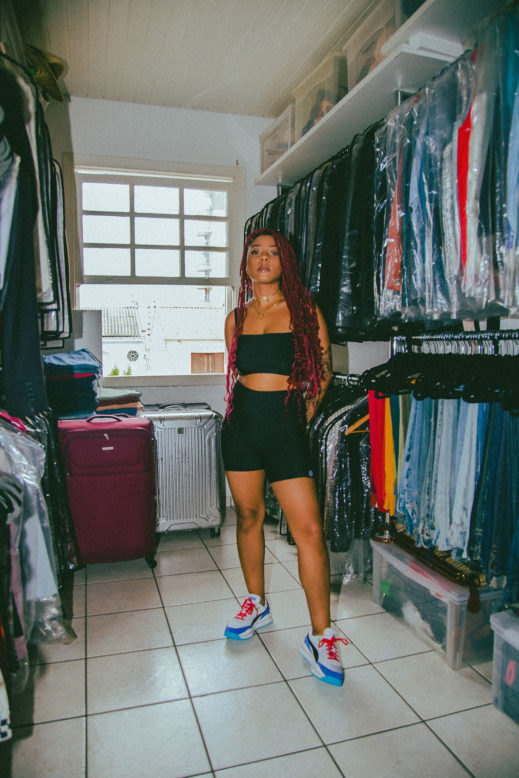 You said that you are working to invest in your music. What do you enjoy the most about making music?
juliaI like making rhymes, I always have. Actually I think that I want to start out by being fair with everyone who's going to work with me – so  I need some resources, and in order to have the resource, I have to work – to be able to invest. Because music is also a business. And for me to get started, I have to make an investment as much as any other business.
I want to do both, my shop and my music. Julia Costa Shop is something I'm not quitting, not for anything. I want to be able to do both and conciliate them, which I think will be the hardest. But I think I'll be able to.
What's your relationship with sneakers in general?
juliaMy relationship with sneakers has always been between love and hate. I always liked it, but I never had the money to buy the ones I really wanted. In fact, the first brand sneaker I bought was through customizing clothes for my brand, so it was the first time I had access to something I really wanted, which was a sneaker. I think it says a lot about your identity. It can seem shallow, but I think your sneaker can say a lot about you, especially in hip-hop, where sneakers are such a big part of its story. I think it is really cool.
I hardly ever buy sneakers, to be honest, I only use the necessary. I don't have many, but I have been getting them as gifts, which is nice. Because I think: "wow, a while back I'd do anything for a sneaker and now these brands are giving them to me, this is so cool!"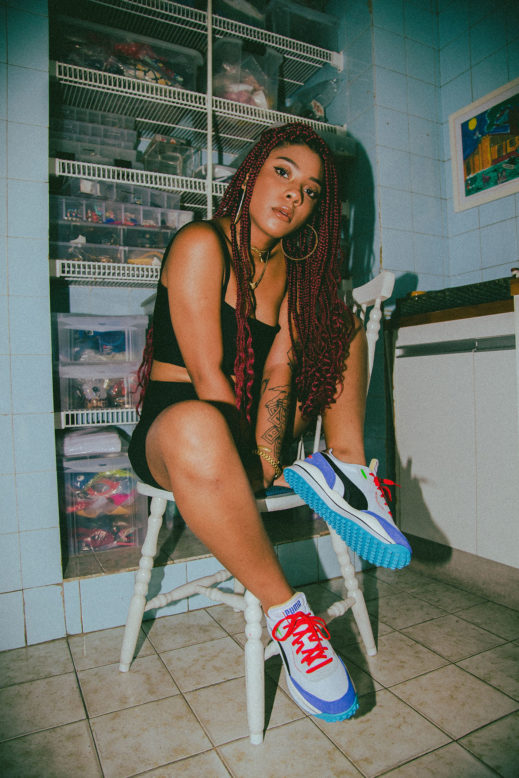 And for Kickstory about PUMA Rider, why did you choose Guarda Roupa SP as location?
juliaBecause Betina, the owner, to me is one of the women who help young people the most. She gives opportunities for everyone in independent fashion and she works and develops a lot of diamonds, I'm sure many diamonds will come up from here, because she really gives people the opportunity for them to grow and learn, which is really dope. She is open to help people, projects, she is open to teaching. Because in fashion, very few people want to teach, and she is the complete opposite.
She buys from brands, to build up the collection we have here, and she dresses everyone in independent brands. She does this a lot, she supports. She works with Advertizing, and advertizing is from the rich, so she gets what they have and tries to give out the most she can to people who are beginning now and have little resource. She says it's kind of like a filter.