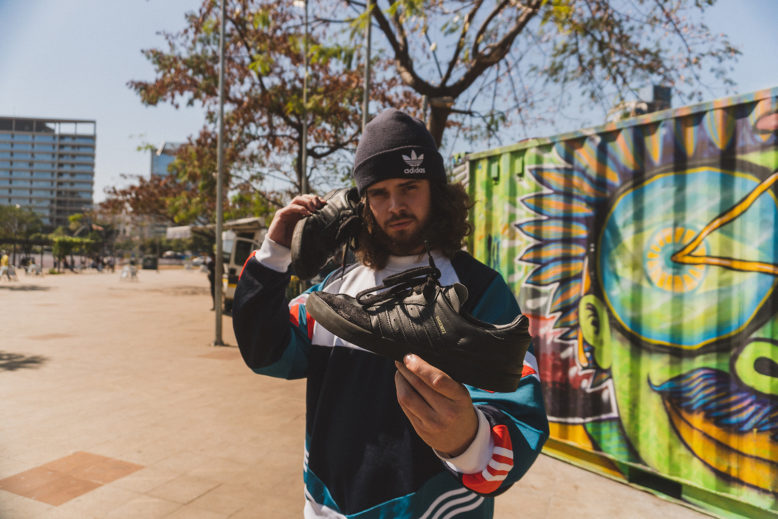 Leo is a skate lover, works at adidas Originals of Oscar Freire in São Paulo and is part of the musical collective Rap Salva Vidas. Super fan of the brand, he has a collection of Busenitz, which is certainly his favorite sneakers and no wonder was chosen for the interview. This particular Busenitz having a deeper history for him, being part of a not so easy time and the overcoming all of this.
"I'm a real chill guy, I really like culture, all things cultural and that will add knowledge to me, content, everything it's super valid. I really like helping and collectivity – absorbing knowledge from people I met, because without it, we won't go far in life. I like music a lot, and it's something I do with a lot of love. Skateboarding and sneakers are also my big passions."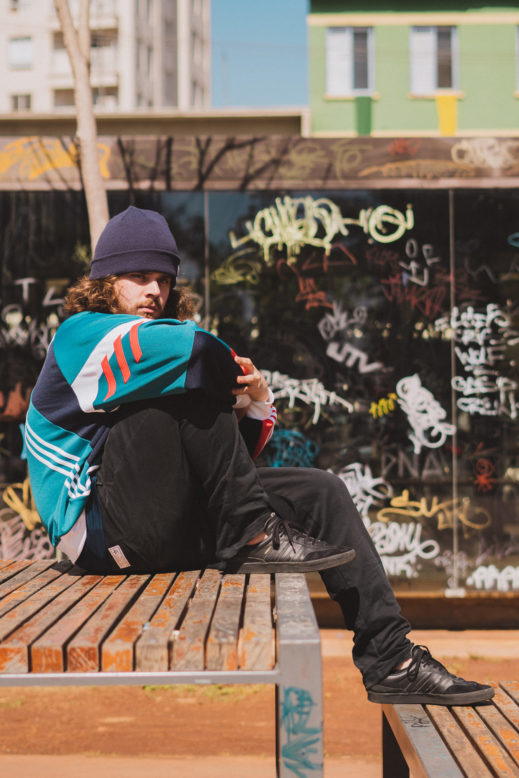 Where did your interest in music come from?
LeoMy grandfather had a Samba Bossa band, it was called Newton Samba Bossa – they did shows, they even played at the beginning of Brasilia. And since I was little I've had this strong connection with Samba that came from my family, besides my grandfather, my cousins played Samba as well. Since I was  5 my dad would play me a lot of records, until I got the taste for it… at 8 I already played the tambourine. At family parties, I would listen to my cousins playing samba and I wanted to play to, but I could hold the tambourine up long enough, it was to heavy for me. But they thought me so I started to play.
You tend to listen to the things you like the most, not only stuff that's in your family's roots, you start doing your own thing – so I did a lot of Hip Hop with Samba, I would get my cavaco, makes some beats and throw some rimes over them, saying the verses just like the sambistas do. That's how my love for freestyling and Hip-Hop began.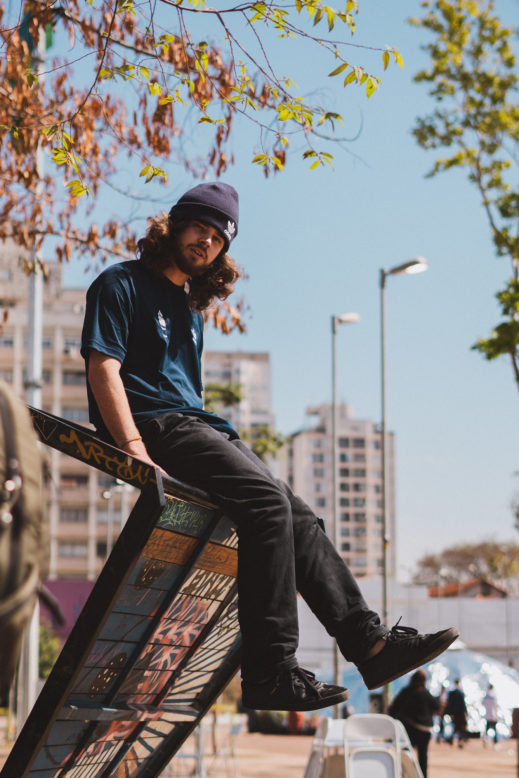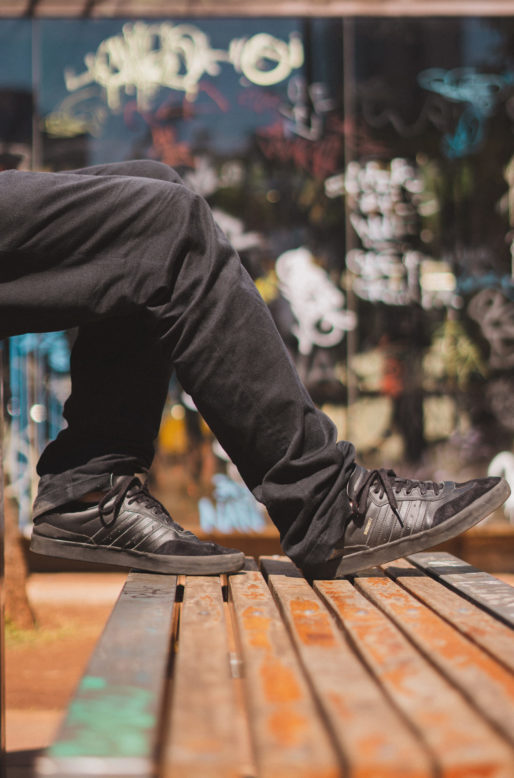 You're also part of a collective called Rap Salva Vidas (Rap Saves Lives). Tell us a bit more about it.
leoRap Salva Vidas was an invite from Two Freaks – RSV involves 6 different Rap groups- we really go after social causes, and we want to use music as an escape for the mind. We have our mission which is doing workshops in our HQ about the 4 elements of Hip-Hop, giving this kids a profession, and who knows in the future we might even give music lessons in a new HQ, guitar lessons, popular, classical music, anything that we can use to give these kids a profession. That's what Rap Salva Vidas is, it's a daily struggle to save lives through music.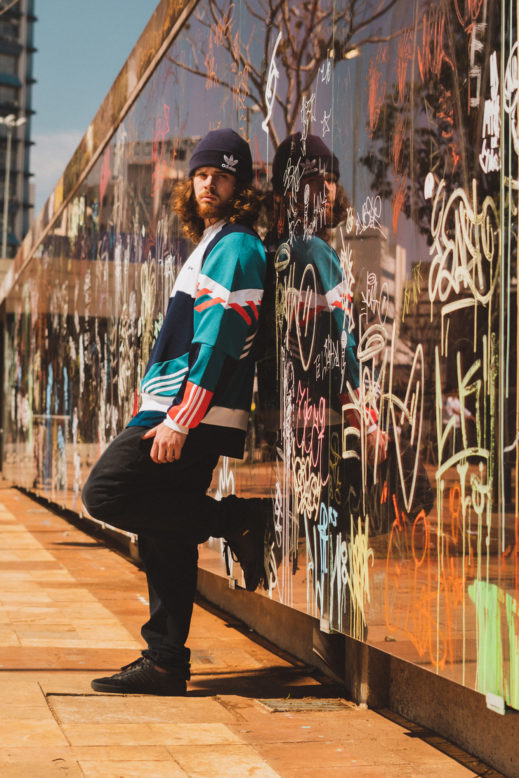 Tell us more about your single Novos Planos (new plans) that just came out.
leoYep! It came out on August 31st. By the end of the year, we're going to release our EP with the concept "Fabrica de Som" (sound factory), because we're all sons and daughters of workers, store floors, factory floors from ABC – there is known for having a lot of car factories – so we thought "we're a sound factory, we have to be known for our art as well". So we have the goal of taking the focus out of this consumerism, factories, and sales from the musical and artistic side, that's really in lac here in ABC. Not because of the people, but more because of the support of the government. The government of São Bernardo is currently spending 1 million reais with Sertanejo, but won't spend 500 on Hip-Hop, just because it's marginalized. Culture exists, but for whom? What is culture to you? Only Italian parties and music from the countryside? That's culture, but what about ours? But in the end, we do out thing from the heart, helping others way more than the city hall.
Music has a very important social role, and we have to use this, in RSV this is what we believe in, that music really saves lives, that it's an escape for the mind, not only a one way out but actually a way in for so many other good things. We see it happening every day, how many times has someone come up to me and said "yo, my son is doing so much better in school because of the talk you guys had with him"  or "my son respects me so much more at home now", "my son is a big fan of yours, he said he wants to go to college". We hear this stuff a lot! We don't want entertainment, we want the movement, that's what counts.
With Rap Salva Vidas we want to transform kids into instructed people, that wants to go the place, what to make a difference where she steps, and also something to keep her busy. Hunger is a strong problem in Brazil, on average around 123 kids die every day for the lack of hydration. So to have a place where there's food, culture, you keep them busy, and allow them to go on different paths to get their money.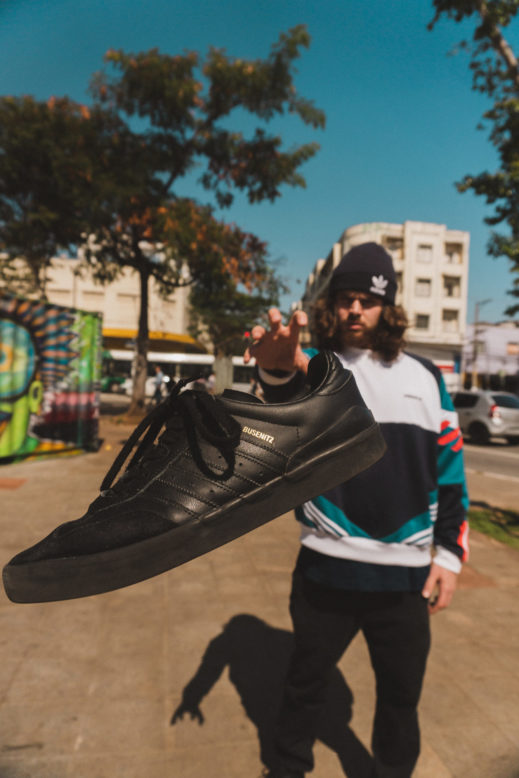 When did your interest in for skateboarding begin?
leoI was born in Rudge Ramos in São Bernardo do Campo, and since I was little, my friend Vinel and I played a lot of Tony Hawk, we loved that! Vinel's mother hanged out with Rudge's skateboarders, she would take Beto, who is one of Brazil's pioneering skaters, super old school, and I had a lot of contact with him. I thought it was crazy, he was skateboarding and riding his motorboard.
I got references from the streets too, you walk around, listening to music, looking at skateboarding… that's how it woke this admiration I have in me, this happened when I was 7 or 8 years old when I started standing on a skateboard. The skateboard makes focus, gives you a lot of adrenaline – you don't need to know how to ride, you just need to stand up and just let yourself go – that's how it was. You have to throw yourself out there on the streets with your board, the way you want to do it, it's how you express yourself, skateboarding is an art, it's a sport but it's an art too.
Skateboarding is very strong in ABC, it doesn't matter if you're not interested you probably rode a skateboard at least once, you know the people who skate around there, it is the cradle of national skateboard. São Bernardo has the biggest skatepark in Latin America right, so you're already born with a skateboard (laughs).
What's your relationship with sneakers in general?
leoSneakers show a lot of about the personality of the person wearing it, for example, I was very into Nike SBs when I began to understand better what sneakers actually were when I began to make my own money right because my parents didn't give me that kind of stuff you know? So one day I bought an Adidas Bounce and put them on, my homie looked at me and said "damn, you've changed bro" and I was like "I did?" and he said, "bro, you look so weird with those sneakers". So they transmit so much of the person's originality and attitude. When you're wearing a sneaker that doesn't go with who you are, you look weird, so to me, sneakers represent the originality of the person who is wearing it.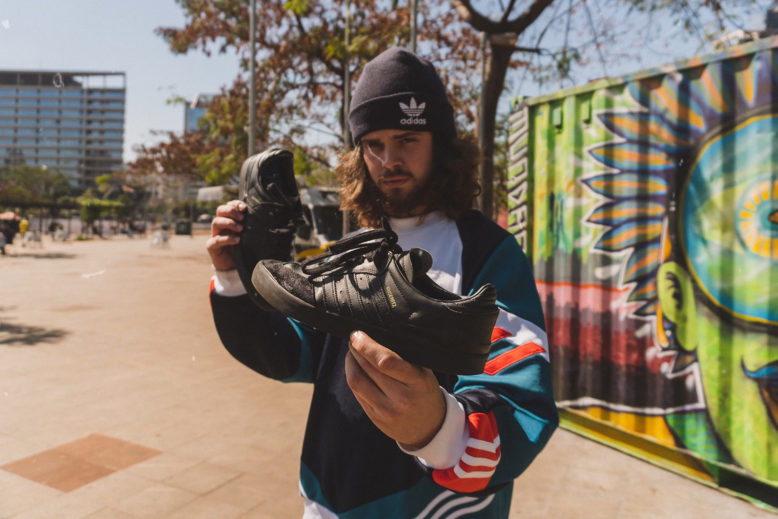 What's your relationship with this Adidas Busenitz Vulc Samba?
leoThe Busenitz is my favorite model since I was 17 or 18 because they're inspired by a world cup soccer boot, I was born in a world cup year, I really like soccer and they look good on my feet. And they're so good for skating, and all the comfort it has; it's a shoe that I really identify with.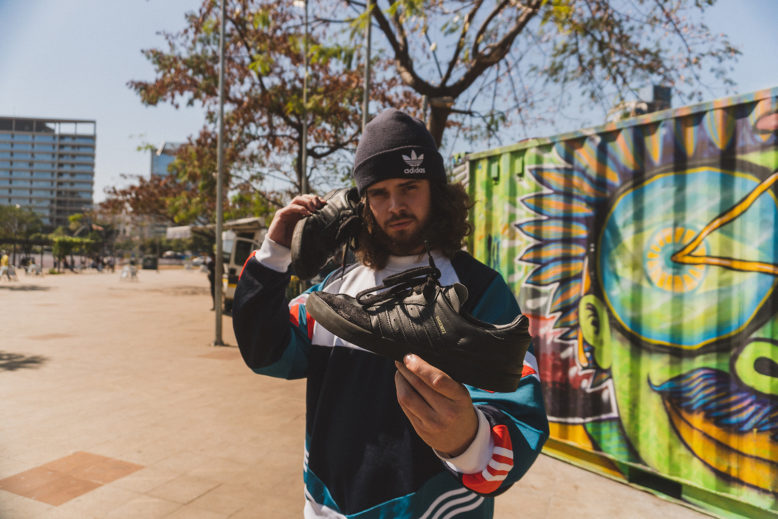 I chose this Busenitz Vulc Samba because of the history I have with them.  This one is all black, in leather, very resistant. At the time when I got these, my mom had passed away and I was going through a phase where I was wearing black a lot, I wanted to be discrete. I would stay at home a lot, I didn't want to go out, it was tough. But it was also when I focused on skating hard, I was skating every day and I was really fixed on it. Skateboarding helped me forget about my problems and made me reinvent myself so I could go on living, so to me, this Busenitz helped me through this phase of reinventing myself and getting back up… resilience you know?
The fact that it's all black helped me to grow, to see my darker side, so I could, later on, reach the light and direction, and then grow personally, professionally and socially. That's why I chose them, They were with me through my hardest moments, they where there even if they didn't want to be since I chose them (laughs), but it was at the right time. I believe things happen at the right time so everytime I look at them I remember that I remember to fight and to have strength. This is actually my second pair, the first one is all torn up.