Carol Granstrom was born in Sweden but came to Brazil as a child. She graduated in styling but works with a bunch of things, from content creation for Instagram, through fashion production, personal stylist to marketing and digital media. Carol told us about her trajectory, her inspirations – both day-to-day and work, her passion for sneakers, and how this Yeezy 500 changed her mind about Kanye West's sneakers.
"My name is Carol Granström, I'm 28, I was born in Sweden, came to Brazil when I was 7, lived most of my life in the countryside. Came to São Paulo for college, studied 4 semesters of industrial design till I found out I was in love with fashion. I have a degree in styling, and a course on personal styling and fashion consultant.
Nowadays I'm working with a million different things, at the same time I'm working with Instagram which is something I think is really neat, because you can take fashion as something more accessible to people. But I also work with fashion production, for magazines and shooting for brands. Besides all that I work as a personal stylist, helping people to find themselves in one of the million different styles that are out there. – sometimes we get a little lost right, and there's that thing where there's styles and tendency, and you think that every tendency out there you have to follow, but it's not like that. And let's see what else? I work with marketing for digital mídias."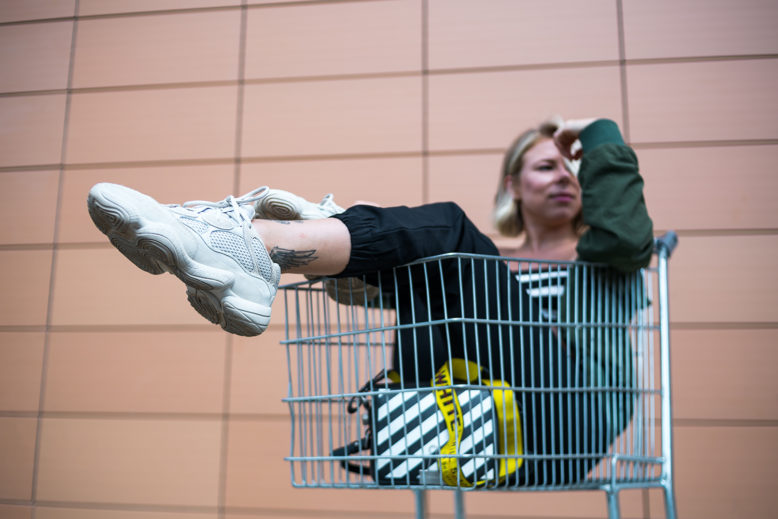 How did you become interested in fashion?
carolIt was funny because when I started doing Industrial Design, 90% of my class were men, it was the same as a woman in an engineering class. And all the guys used to say, "You're so stylish, why don't you study fashion?" and I was like, "Fashion? Are you kidding me? Do I look like a girly girl?" I had this prejudice, all the friends or girls I knew who were studying fashion were very futile, who were doing the course just because and didn't really like it, they liked to buy fashion, but not really study about it.
But one day one of my friends invited me to go to a fashion history class with her. I accepted and fell in love. I had a totally distorted view of what really was the subject, I had a superficial view of the shallow people, who used fashion as an excuse to go to college. So after I deepened, I started to research and become more interested in the subject, then I left Industrial Design.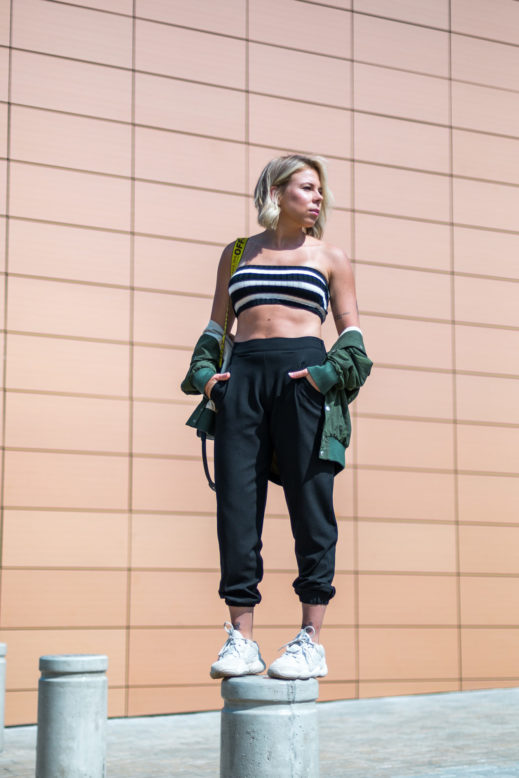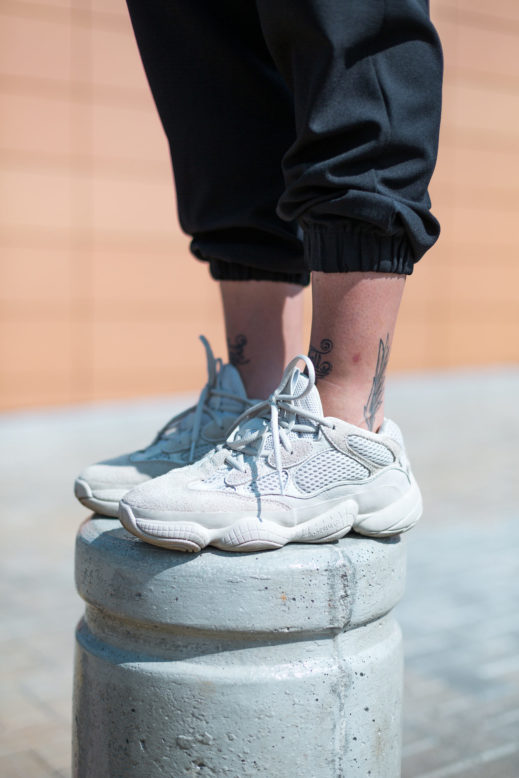 What's your daily inspiration? When you go on production or even when you have to dress someone?
carolActually it really depends because every person has a different style, a different way of living, so I try to fit that into the person's reality. It's no good if I just get inspired and think " wow, I think this girl is gonna look dope with Kate Middleton's style" but she can't live the lifestyle, our because she doesn't have enough cash to get to this level of accessibility, our she really doesn't have any interest for that type of lifestyle. I always try to know the person I'm dressing, so always before I start a job I invite my clients for coffee, I try to figure out who she is inside, what she likes to wear on the outside, so than I can create a mix of things she actually likes , stuff that can really enhance her.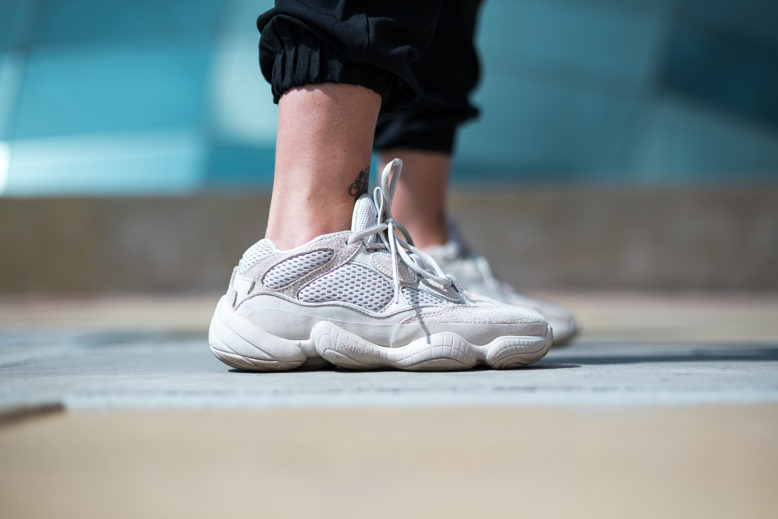 To me style is a reflection of what's inside you. There's those days that you really don't feel like dressing well. You can tell when someone is not well, you can see it from far away that the person is a mess, wearing a hoodie with jeans  and some basic sneaker. That's a sign. People generate signs with the way that they dress, when you are in a good mood you don't even put makeup on, but you get all dressed up? That's it.
Fashion is nothing more than a reflection of what's inside, when they create a collection it's the same thing, they create an emotion, an entire story and context behind it. If you look up why this sneaker was made the way it is, you will see that he probably did some research on something that reminded him of that look, I don't know what, maybe his grandfather. When you look at the story behind it, you can understand how everything happened.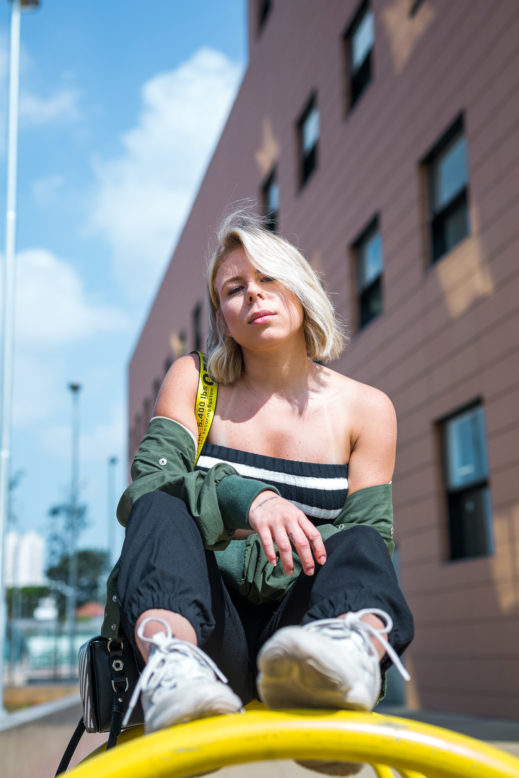 Right now, what are your inspirations when it comes to dressing?
carolI identify more with streetwear because of the practicality. Any shirt I put on is great, but I like to throw in some style with a belt,some different sneakers, and that's where the sneakers come in. I'd rather be basic up here but with some dope sneakers on my feet, than the other way around. Many of my friends prefer wearing Osklen from head to toe, and I'd rather spend it on sneakers. The money you spend on a dress that will rip within a week, I spend on sneakers that will last for years and years.
What is streetwear to you?
carolStreetwear to me is nothing more than the fashion of the streets, the name itself is already saying that. There's this hole story about how the culture began, back in the United States, creating a movement. And I see streetwear more as a movement – you give a lot more credit to starting brands, because of the materials of each piece, so even for me it is difficult to explain what streetwear is.
But I think the concept is to be casual and you can use it at all times, from morning till night. You change one piece or another that will completely change your entire look, or sometimes you don't even have to change anything. It's the clothes you will wear on the street. In addition to that, it is a culture that represents several strands, such as music, art, representation, sometimes even sustainability, everything fits into streetwear. And it's a something that is connected with everyone, everyone has access to streetwear. It's just that some people get really into it and others don't , but it's very accessible thing and manages to embrace everyone in a much more practical way.
And what's your relationship with sneakers in general?
carolSneakers are comfort, practicality, versatility, attitude – because I wear sneakers even to go out on night clubs, which is something more accepted today, but about 4 years ago I would wear sneakers to nightclubs and people looked me up and down with that face like "ow you're wearing sneakers? ", yes! What's the problem? No thanks but I'm not wearing a vacuum sealed dress with 15cm heels, you spend $ 3,000 on your Louboutin and I spend on my sneakers.
Sneakers represent a union of things, you can wear them for any occasion during the day till night. I'd much rather wear a nice sneaker or even a basic sneaker than throw myself on a heel, hurting my feet, getting tired, getting bubbles … no, no. No one deserves that, for God's sake.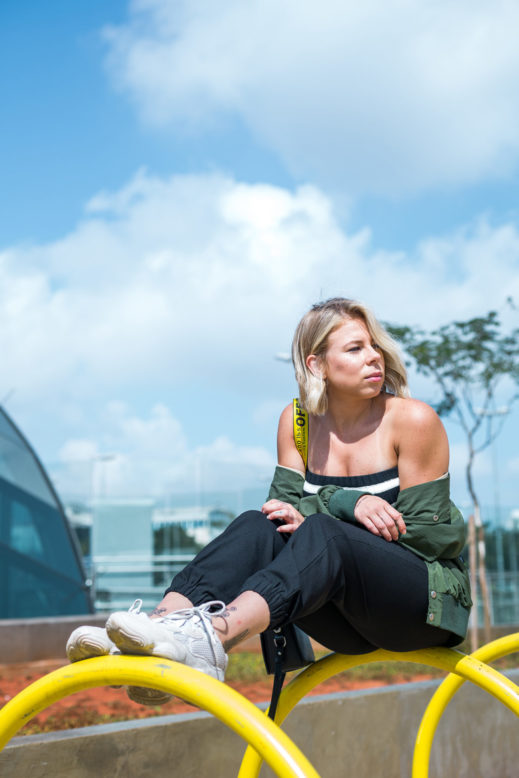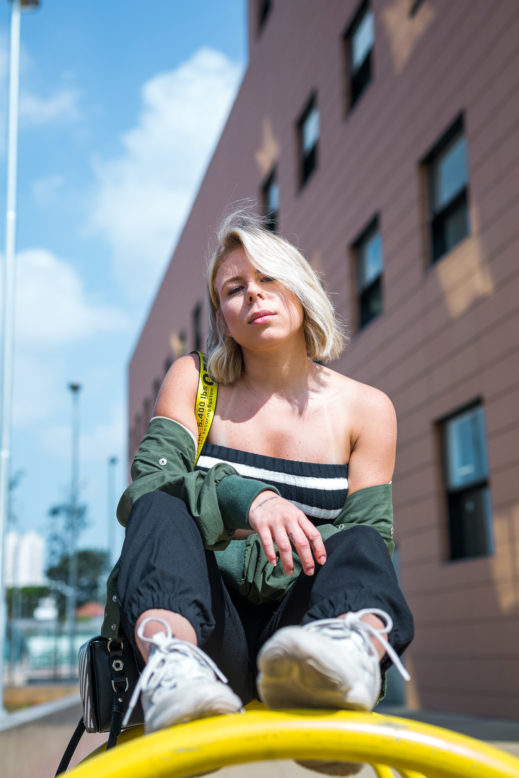 When and how did your relationship with sneakers begin?
carolTo be honest, since I was a kid, I've always been a sneaker person. In fact, I've always been a part of the skateboarding kids , I would hang out with the boys. I've never been one of those girly girls who walked together in high school. No, I was drinking on the streets with the boys, always wearing sneakers. And to this day I remember that at that time I wore a checkered Vans slip ons and everybody would bust my balls calling me emo. Look now, everyone is using them.
I already had Vans, Trasher, Freedom Fog, Plasma – I was from the Plasma era! But anyway, I always liked sneakers and it evolved to other brands, other styles and I just got better over time.
What is your relationship with this Adidas Yeezy 500 Blush?
carolOf all the sneakers I have, this one was the one that shut me up about the brand, I paid my tongue. I always said that I would never buy an Yeezy, because I thought the 350 was very boring, it's beautiful, okay, but what's the big deal about it? Because it's a knitted upper? Ok, Nike did that two years ago. They released a very beautiful Presto, knitted high-top, ultra midsole and everything and nobody even cared.But here comes Kanye, makes the Yeezy and just because the Kardashians wore them everyone wanted one?
I also remembers a fashion show that they did, that the models all got sick because of the heat, because he decided to have a fashion show under the scorching sun in the US, that the models passed out! Gee, you have no conscience, do you? So that distanced me from him and with the brand.
With time, he started to make other sneaker models, and I began to understand more about the hype behind the brand and the concepts of the products. When he released the 500, exactly in this colorway that I love, I looked and decided to to give it a try. I signed up for the raffle at Guadalupe, to see what I was going to get – this was my first raffle and that's why I won, because of my size. I thought it was pretty cool, the feeling that you get in line, knowing you're going to buy a sneaker that not everyone is going to have. All of that added value to the sneaker, and when I put them on, I saw how cute they looked, how comfortable they are, all the different fabrics, the design, so I put aside my prejudice and assumed – okay, the dude is good