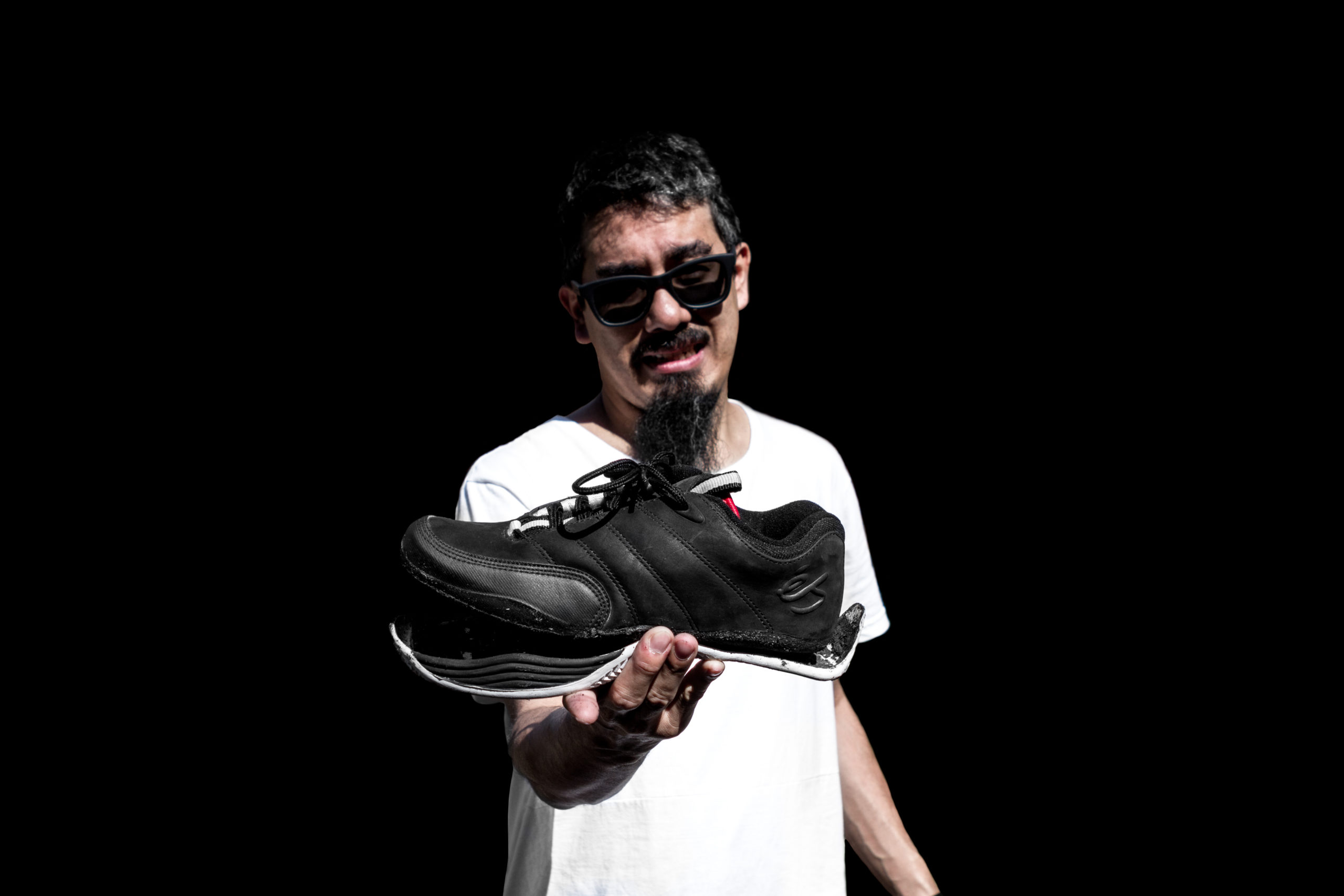 "I'm Cauê Ueda and I'm 38 years old. If I was a sneakerhead then today I'm an ex-sneakerhead, I don't think there's such a thing but anyway, I spent a lot of money and time on sneakers, and I think that time is more complicated than money. I don't know if I collected sneakers, but I sure bought and kept staked a lot of them, and in some ways, I regret doing that, I think I should have worn them or maybe not even bought all of them. But anyway, I think that maybe it was part of a maturing process, of you getting to know yourself.
I'm a cinematographer, I work as an executive producer for advertising movies, for a company called Tamago. And in the midst of all that I got myself a side project called Metanol, that is a group of people that wanted to make sound, and I, in this case, to make sound with images. I work as a visual artist for Metanol, I make projections, I work with sound and we played in Virada Cultura for the first time. And it's a lot of work, it may not look like so, but it's a lot of work, we throw parties on the street that we produce it all and stuff. There are people that come up and say "look at those hotties playing up there, they look like a boy band" but those hotties 3 hours earlier were cleaning up police horse manure from the street.
Skateboarding to me was a way to make new friends that weren't friends from down the street or from soccer, so back in my skateboarding days there was this dude that killed it, Eric Koston, and he had his own signature sneaker the éS K3, and back then there weren't a lot of signature sneakers by athletes and all that. There was Sal Barbier, that was the only one who had a skate sneaker, ok, there was Tony Hawk, Jason Lee etc, but coolest dude was Sal. He skated kinda weird but he had his own shoe, the Sal 23, with Etnies that was one of the 3 main skateboarding brands, along with Vans and Airwalk. This was a sneaker that everyone wanted but nobody had, especially the baby blue one, because back then, you were the dopest if you were 16 years old skating with blue shoes on. And it was so hard to get because in those days you couldn't import sneakers from abroad, Nike had a lot of sneakers, but only half a dozen stores in 24 de Maio had them.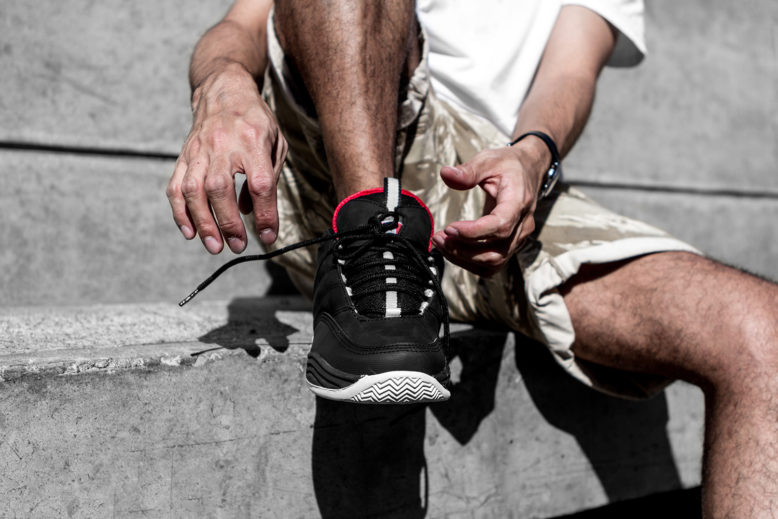 Etnies opened up another company called éS, and Koston was "adopted" by the brand. Together they produced a sneaker made out of mesh, caramel outsoles, cushioning, and everyone was shocked because nobody thought of making a sneaker with those attributes before. That's when the éS K1 was released. I was around 16 or 17, and I went crazy for those sneakers, and with the Fernando Henrique administration, the market for imported skateboarding shoes began to open up. I remember buying TransWorld on the magazine stand over at Paulista, and it had a whole catalog of sneakers, and I thought to myself " damn! I can buy any of these sneakers!" So I went up to my mom and asked for her credit card and she said: "what are going to do with that?" And I said " I'm going to buy a sneaker" – and there was no internet at the time people – So she asked again "but how?" And I said, "I'm going to buy them with a magazine".
I got the chart that had a detachable form, it was like an almanac from Turma da Monica, I filled in the hole form with my information and then I would send it by fax, By fax! The pre-internet (laughs). I bought the sneaker for 50 dollars and I paid an extra 15 with taxes, and then I went to school with a sneaker nobody had, and that nobody could have even if they wanted to! Only if you went to FTC store in San Francisco, I got it through fax! Moral of the story: I had Tony Hawk sneakers, Jason Lee sneakers, some that nobody had ever seen.
When a new sneaker would release over there, it would sell out really fast, I would call the store speaking some horrible English, and asked when would the sneaker be in stock. So, the K1 released in the states and I was able to buy one, I would only use it now and then to preserve the sneaker, no fucking way I was gonna skate with them.
Then the K2 came out, assuming it was like an Asics but from éS: it was gray and lime green, had cushioning, it was all phosphorescent, kinda crazy. We drank a lot from rap culture back then, and those guys wore sneakers like those, and that point in time was the origin of sneakers we use nowadays. Sal Barbier's sneakers had the number 23 because of Jordan guys, everything comes from basketball, it was just something like "hey guys, let's pull a prank and make a skateboard sneaker and sew a number 23 on it, so it's like a Jordan but for poor people" (laughs).
Anyway, around 2001 I was already in college and trying to drop the whole sneaker thing, trying right, because it still lasted for about 4 years spending a lot of money on sneakers. I went to New York and visited Supreme that back then was a joke because the store was basically a Tv, no clothing, and a keychain that cost like 500 dollars. But anyway, when I was over there, they released the black and the white K3, I went around the entire city looking for that black one like crazy, and of course there were none left, I only found a white pair size 9, it was huge and super expensive, it was like 120 dollars. Then the salesman said "we're sold out, these are all we got, there are only two pairs in the whole store, if you don't want them, somebody else will", so, obviously I bought them. I left the store with my feet dangling inside those sneakers than this really cool looking dude came up to me and said "Damn! Those are some nice looking sneakers you got", I got all excited.
I went back to Brazil, and I didn't have what it took to wear white sneakers with red details, it was a simple shoe. Years passed, and of course, still nobody had theses sneakers only a friend of mine who was in New Jersey – He got one with Bam Margera pre-everything, pre-CKY or pre-Jackass, he met the dude at a skate session and they made a deal where he got a black with red one size 12 even though he was a size 9, he looked like a clown with that thing (laughs).
A long time went by, and the Nike SB culture came up and I began to buy them because I came from that skateboard and basketball scene, so I started to collect Nike SB, Nike Dunks, and all of them I bought on Ebay. One day it hit me, and I began to look for the K3 on the website. I found pairs for like 500 dollars, 600 dollars, K3's in homage to the Lakers in purple and black, I found all kinds of them. I wanted to buy all the K3's I could put my hands on, so there was a time I had around 15 pairs of K3's, I had like 5 K2's, about 4 K1's. Then once this rich kid came up to me and said he wanted to buy one of my K3's and that he would pay whatever I wanted for them – so, I ended selling him like 6 pairs for a thousand grand each.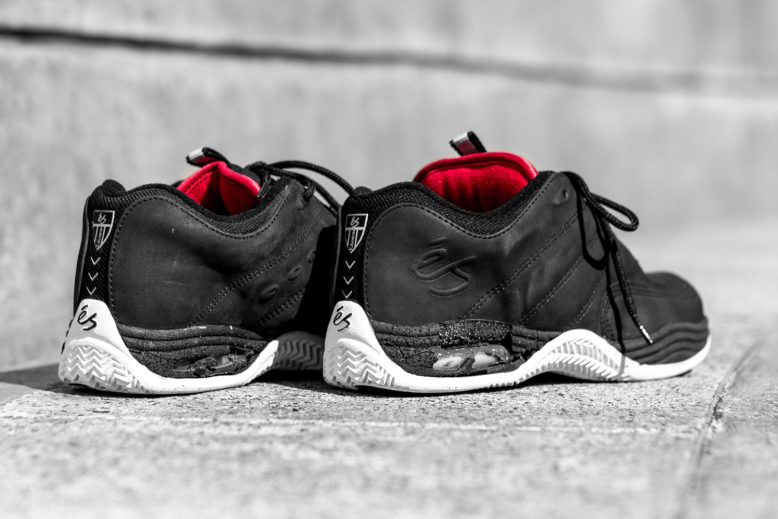 I continued collecting those sneakers until one day I stopped. I got fed up, I was spending too much money with all that, it came a time a owned like 90 pairs, so I reflected on it, and didn't see the point in having that many sneakers. I thought on selling them, at the time you guys contacted me I had just finished reading an article about one of the biggest sneaker collectors, talking about detachment. I usually don't read articles on sneakers because I'm completely disconnected from all this sneaker culture, I like sneakers just like everyone in my generation back in the 80's.
Well, this morning I went to get the sneaker for the shoot and when I opened the box: hydrolysis. Nowadays I work with performances, actions, so I had the idea of destroying my sneaker with you guys! I think it's a good story for you guys to share with people, and it's a good story for me to tell myself, for me to hold this memory of the moment of the destruction of my sneaker. You guys take some pictures of them looking good in one piece and then pictures of them completely destroyed.
I think my relationship with this K3 is a bit of frustration of me never having played basketball, that Jordan XII in which the K3 was inspired, was always a very expensive sneaker and only the rich kids could buy them. Anyhow, I talked to Victor who is also one of the members of Metanol, about how I wanted to sell this sneaker, and he said "this sneaker must mean the world to you, or maybe to some dude in the US, but here in Brazil everybody only wants to buy Yeezys or performance models. You're never going to sell them to anyone, and if you do it's going to be for 50 reais. Hold on". And I followed his advice and kept them.
Today when I went to get these sneakers, I got a mix of feelings and I realized: my past is crumbling apart, literally, I wanted this sneaker so bad, I was able to buy it but I never wore it! And this makes me rethink our relationship with consuming, it's impossible not to think that in this capitalist system we're not going to buy stuff etc, and that's kinda ok. It's ok buying sneakers, the problem is not wearing them. The thing is my dad coming up to me and saying "Cauê you don't have enough feet for all that, you won't live long enough to wear all of them", and he is right. Nowadays I only wear one sneaker that I didn't even buy, it was given to me by Nike.
You need to wear what you have, and that's what I tell dudes when they ask me " what do you mean, you're selling your entire sneaker collection?" they gotta circulate. Before I would only use my dopest sneakers because I had 3 more put away in my closet, big shit! These days I have 2 sneakers that I have to overcome, this K3 and a Nike SB Medicom that also never wore, and today is the right moment for that, and to have some good laughs.
I think that this is the message that I have to overcome today, more than an interview and a photoshoot, this has a special value to me , that is to detach myself from them and see if tomorrow I will bang my head on the sink or I'll be a better person (laughs)."