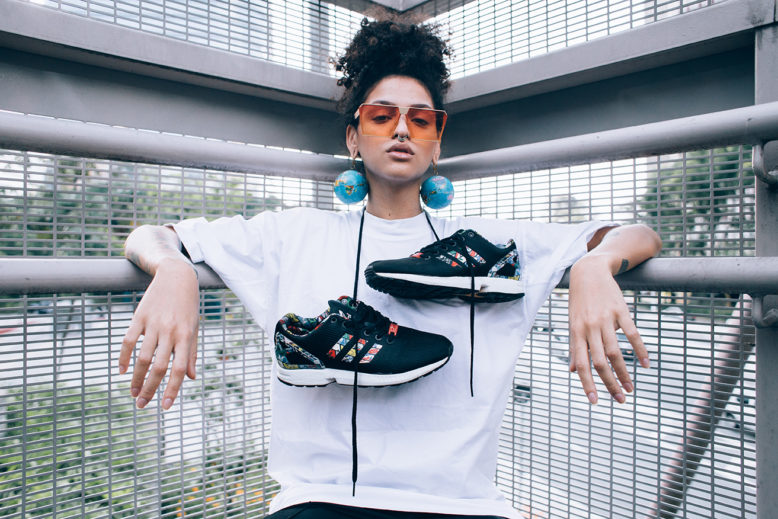 To get off to a good start in 2018, the first shooting of the year is with Djully Badu, dance student, model and the type of person who engages in various areas of art. She told us where her passion for sneakers came from and how this adidas set a turning point in her life!
Today's shooting was photographed by Pérola Dutra, our first partnership with her!
"I always find it hard to talk about me but let's do this, I'm getting my dance license for contemporary dance, and, you live just out of anything right, because when it.rt you can't get involved with just one thing – we make videos, photos, throw some dance in the mix, urban interventions – there're many ways to express yourself and I like to embrace a bit of everything, that's how I got about my life.
When I go somewhere I really like to study everything about the place, its culture and everything it has to teach me – what that place produces, things I can only find in that place and nowhere else. I try to know where it's made, how it's made, I look for someone who is the best representative of that, so I can get closer to him. I really appreciate handwork, because every material is unique and when you buy it that object already comes with a story, it's already been through some kind of process so it can be here, you know? I really like things made by other people and to know who these people are."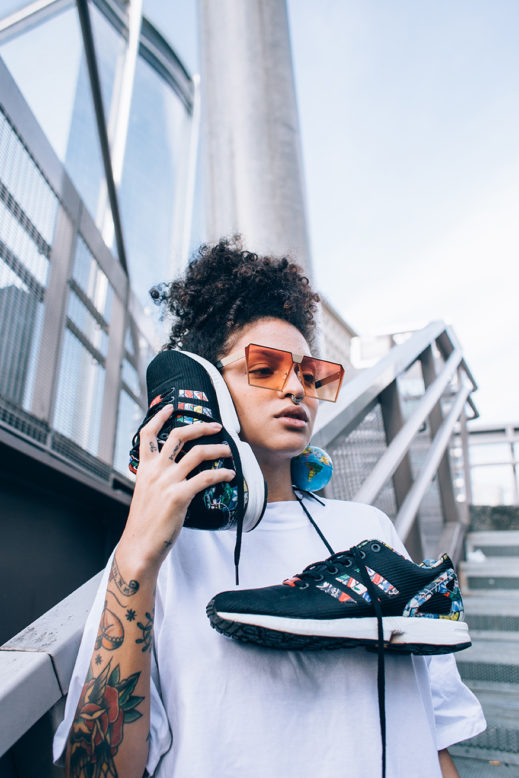 Djully what's your relationship with sneakers?
djullyWhen I was a kid Sneakers where something I really had chose wisely because I could only get one that I would have to wear the whole year. My passion for sneakers just like my passion for my soccer team came from my uncle – he taught me which sneakers were cool, he'd listen to rap, my mom played basketball, so I was very well referenced at home. The first sneaker I got that I really liked was a white and blue Reebok classic leather, it was what I wore to school. Since it was a white shoe my uncle would take me on his bike's handlebar or make me go through the grass so my sneakers wouldn't get dirty. And this was something I held on for the rest of my life, if there's something I can't stand is someone stepping on my sneakers, party is over for me if that happens, I shut down everything, it's the sacred part of my outfit – I build my outfits starting from my sneakers. Since as a kid I could only get one pair a year, once I started buying them with my money, I got all the sneakers I wanted when I was a kid. The most recent one was a sneakers I wanted for a long time, a Reebok classic High top.
In my relationship, which is not even a year old, my husband already got it that my thing is sneakers. In Salvador it's very normal to see people wearing slippers, it's a cultural thing – I think BBZão is the only person I know who I can sit down to talk about sneakers and clothes. But anyway, my husband is getting the hang on how to buy sneakers, to know their names and history and the last gift he gave me was Pharrell Williams', Tennis Hu. He even asked BBZão because his choices were like: "Do you want Rihanna's sandals or Pharrell's sneakers?" Because he's a musician, so this is how he chooses his things.
And I really like the urban, I find it comfortable, I really feel safe in around it, you know? When you're in the middle of the woods people expect you to be natural, to live nature, to put your foot on the ground … I'm not that person (laughs). In Salvador people only wear slippers, which is a state huge comfort and is the same state that I feel when I'm wearing sneakers – I'm used to wearing sneakers indoors.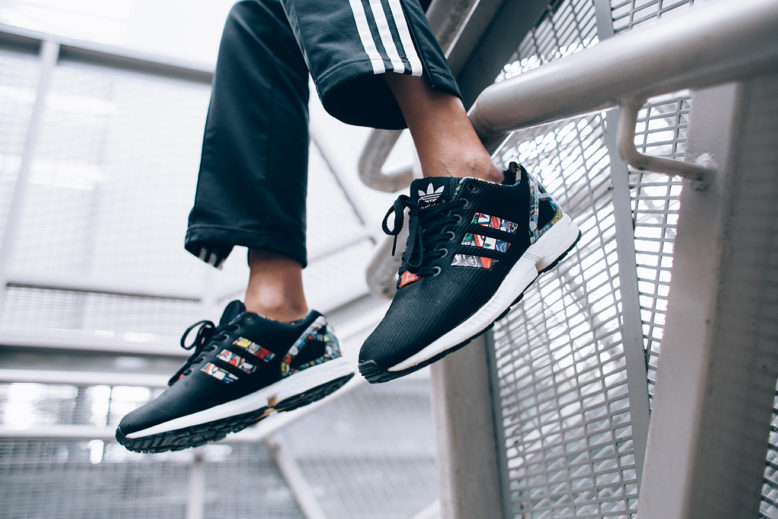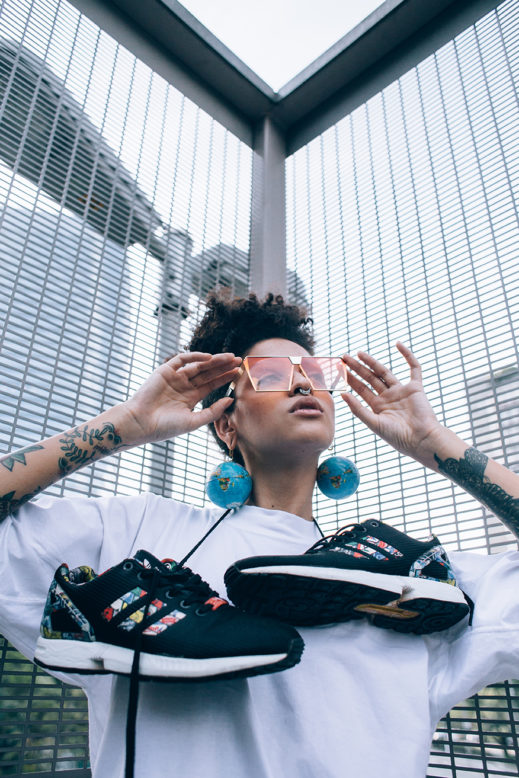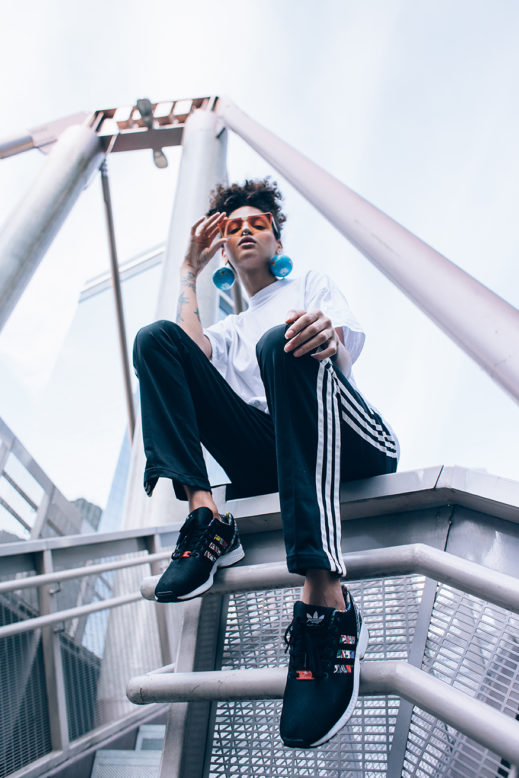 I look for references, I try to know what people are wearing, even because sneakers have a great story behind them. Respect is passed on to people through the sneakers stories, you wanting to know what the idea was, what happened, you search for the records and references that the people had when they designed it and why it still prevails.
And why did you choose this Adidas ZX Flux for this photoshoot?
djullyI went through four universities and four different courses before deciding that I wanted to study dance. And for that to happen, I would have to study at a public federal institute, 8 hours a day, and as a consequence, I wouldn't be able to work – I would have to get by selling something I knew how to do.
The day I quit my job to get my registration, I got some money and bought these sneakers to wear in college. So it was the sneakers that marked a turning point in my life. He accompanied me in most of the presentations and dance trips I did and when I moved to Salvador to meet Diogo.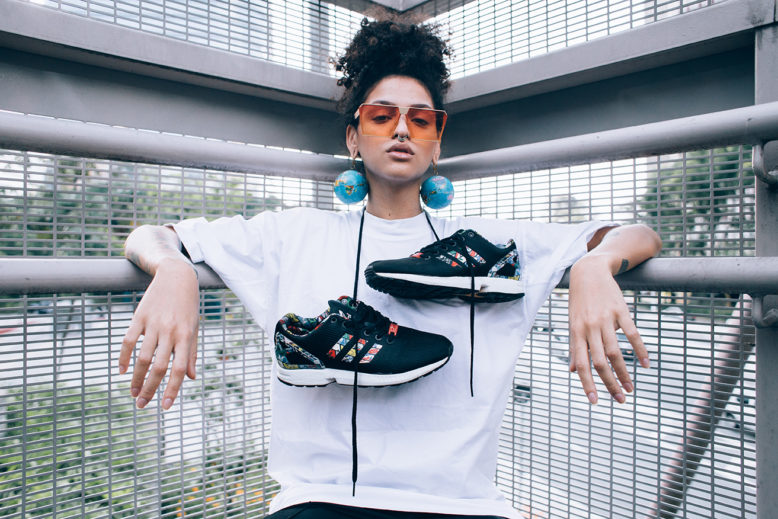 Do you have a story with him that marked you?
djullyI'd say that it was when I did my specific skill test at college. This test was composed of various corporal activities focused on Contemporary dance – which is a modality that I had never done before since I come from the Afro side not from Contemporary-Afro. I walk in the room with a teacher's board to evaluate, they put the music but I had to dance my strand, you couldn't dance to the rhythm of the song; Another step was to join a bunch of people you just met and put together a cluster choreography. I was passed in fifth place in the test, in a bunch of really good people.