This week we had the opportunity to interview Felipe. He is a professional musician and played in a band for several years that enabled him to live many of his dreams: signing a contract with a major label, playing at Rock In Rio, SWU, and even opening the Linkin Park show. When he left the band, Felipe went to study music in Los Angeles, California, and it was there that he began to really understand the whole universe that exists behind a pair of sneakers and all that culture. And no sneaker represented this better than the Nike Cortez.
"My name is Felipe, I'm here from São Paulo. I'm 36 years old, I'm a professional musician, and I played in a band. And after a long time playing, I changed my life completely, I left all that, and went to the United States, where I studied music and when I came back, I never played again. Never (laughs) I sold everything I had, I went to work in a restaurant, I became a trainer for an Outback restaurant chain, completely out of nowhere. Then I completely changed my life again, and now I work with trademark licensing with my father. It has nothing to do with one thing or another. I've even played professional hockey, I've done everything. And in the meantime, I collect sneakers as well.
I started linking sneakers a lot because of the band, we had partnerships with Nike and adidas. We could go there and get whatever we wanted. I already liked sneakers, of course, but back then it was easier to get them and it ended up opening my eyes more. And then, when I changed my profession, I also stopped buying sneakers and changed my focus to something else. And about 3 years ago I came back way stronger, sold all that I had and bought all new ones. And the Cortez was the first one I bought from this new batch, from when I came back."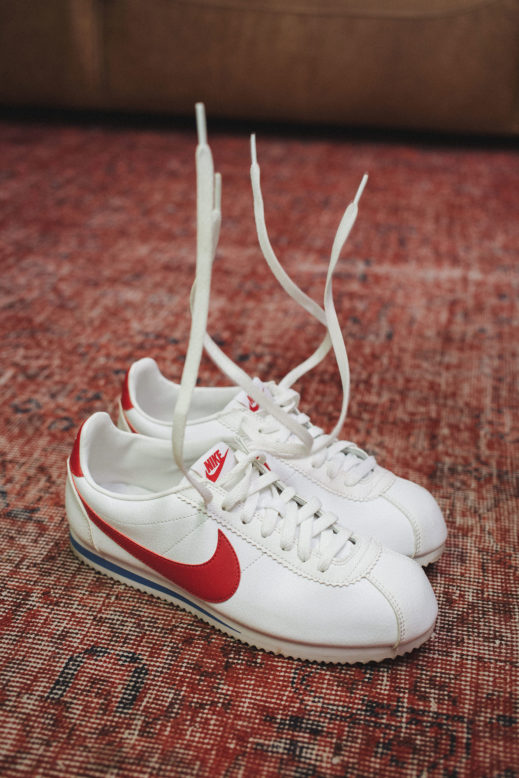 You started playing at the age of 9, how did you start that interest in music so early?
felipe I also don't know. I was always very agitated, I would always be banging on stuff, moving my feet and whatever. And everyone who wants to play, wants to play the guitar – so I bought a guitar and I never figured out how to play it, I have no coordination to play the guitar. I can't understand what is happening. And since I was always banging on stuff, I went to see if I could play the drums – I bought a pair of drumsticks, with no drums at all, and kept playing while listening to songs. I never took drum lessons, I just learned by playing like this, alone, I would learn all the songs just by listening, and playing in the air.
I started playing at the age of 9, at the age of 18 I won my first drum set and that's when I started playing for real, I got a professional license, I already had a band, I started playing at school. And then in 2005 I joined Glória and in 2009 we signed with Universal and Rick Bonadio – and right there, things took off like that, we did Rock in Rio, SWU, a lot of things.
You said that you achieved many of your dreams because of music and because you were in Glória. Where has the music taken you?
felipe First, it was to sign with a record company, the high point of being in a band is when you sign with a record label. Then, besides the record label, we had a manager, which was like a luxury, and it was Rick Bonadio! And I lived other dreams like recording in a professional studio, playing on the radio, MTV, we played at Malhação, SuperPop – no SuperPop, I played that drum set while standing, you know? Like a playback, with your thumb like this. It was sensational. We met a lot of bands, a lot of people, a lot of people came to talk to us, like it wasn't the normal cycle of things, like Charlie Brown came to talk to us, but it was us who wanted to go and talk to them, you know? it should'n be them coming up to us and saying "oh, I've heard of you". I loved meeting Chorão. We were recording CDs at the same time as Charlie Brown, and there was a lounging room with video games and food, and I went into the room and he was sitting on the couch. I was shocked, and he said "Hi my name is Alexandre", then I said "no, I already know who you are" (laughs). We talked for hours, he said "oh, you will get used to having these problems, the media, they talk about me like I am a nervous person, that I punched God knows who, but they don't know what I go through". Meeting these guys was awesome.
And also, we opened a lot of shows, like Linkin Park, Queens of the Stone Age, Avenged Sevenfold, Incubus at SWU, that day was awesome. I remember I arrived at SWU at 5 am to do soundcheck, and when I got there Linkin Park was on stage doing their soundcheck! I said damn, I'm not going up there, I'm shitting myself over here. Man, I met those guys. There was a food area, imagine me sitting here, and Chester right in front of me at the buffet too, I swear, it was like that. I looked at the guy and said "bro, I can't believe that Chester is at the buffet, with his plate standing and waiting in line. No, it is not possible". Then there was sharing the dressing rooms. I don't know a lot of crazy stories. The bizarre things of being on the road. Panico na TV that I wanted to participate in and I did, Chupim. I don't know, all that stuff was a kid's dream and I went and did it.
VMB! We were nominated for 2 years at the VMB. We Played for a lot of people, 150 thousand people, 50 thousand people, some bizarre shows that give you this weird feeling. It's really cool, and it has a lot of stories. You can stay here doing about 80 episodes just telling stories about the band (laughs).
"And also, we opened a lot of shows, like Linkin Park, Queens of the Stone Age, Avenged Sevenfold, Incubus at SWU, that day was awesome. I remember I arrived at SWU at 5 am to do soundcheck, and when I got there Linkin Park was on stage doing their soundcheck!"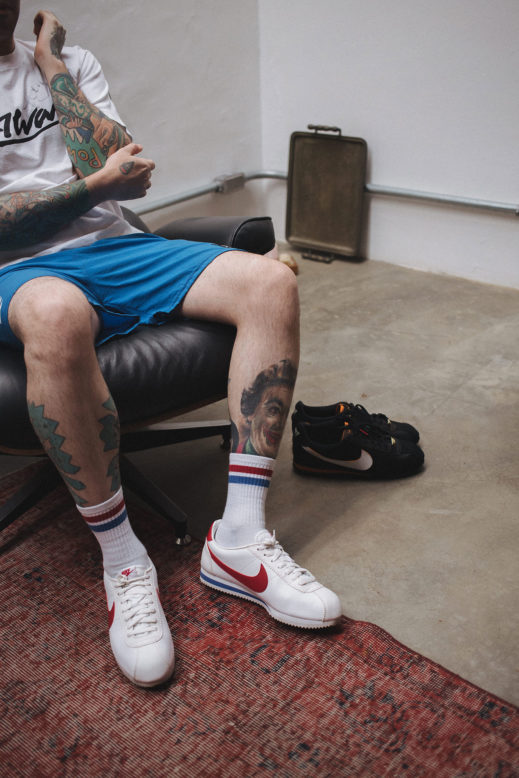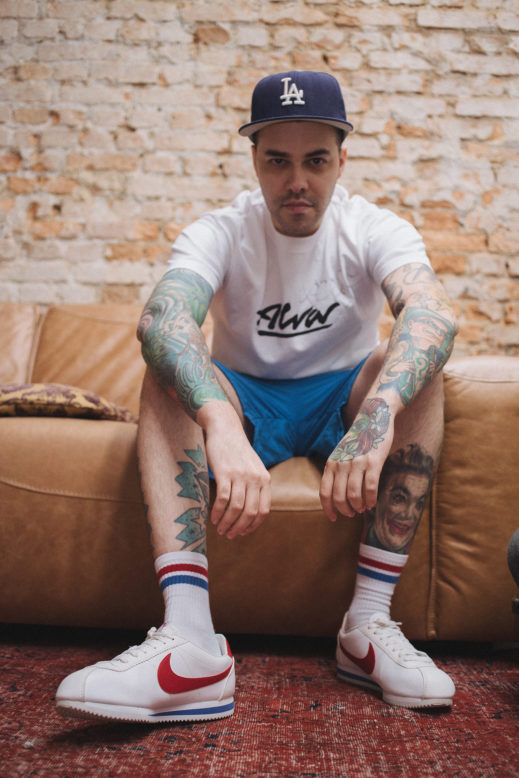 And how was the experience of studying and living in Los Angeles?
felipe Well, in 2011 I left the band and said "I need to leave Brazil". It wasn't even a question of luxury, it was that I really needed it, anyway, I had always been a dream and that was the moment. And I said "I'm going to Los Angeles". I managed to organize some things and then I went to study music. The MI was the best music school and they had very specific courses, so I went to study drums. You don't study music like you do here, like here you become a conductor and stuff. There I went to learn drums, so there was a building just for drummers. I started taking classes and the visa was automatically renewing as I took the course, everything was linked together. Because of the student visa, I couldn't work, I couldn't do anything that paid, and I couldn't even do a show. So I stayed, I stayed, until I graduated.
In the meantime, it was an opportunity to stay there, right? Studying was just so I could get in to be honest, what I really wanted was to stay there, for the culture, hardcore music, which is my foundation, and it's all from there. Even because of Nike Cortez, it has the face of Los Angeles. The Cortez, it's Mexican influence … LA is like you are in Mexico, there are places where you only speak Spanish, it's really impressive. And the Cortez has this gang vibe, that it's really dangerous for you to use a Cortez there, it's something that really exists, it's not a movie, it's serious. Even those things you see in GTA, the chicanos in the street, you really see all that there. And the whole culture of hardcore, skateboarding, surfing, movies, music, of using whatever you want, I think California has a lot of that. The United States in general has this that they don't care much about what you wear, but California is kind of a more relaxed atmosphere, beach, skateboarding. You see executives in shorts. So Los Angeles attracted me a lot because of their culture.
And after that you went back to Brazil?
felipe I couldn't stay there because of the visa, so I came back, I sold all my drums, everything, and I was left with just a pair of drumsticks. I sold everything. And I didn't want to play anymore, I didn't have the patience to start over and do it all over again from scratch, I had played for 10 years, I didn't want to start again. As much as I love it, and anyone who works with art knows that it is difficult when you get to that moment when you say "that's it". I left college, I dropped everything to play and to be a part of the band, whoever makes art does it for love, first of all. And when you see the moment of "that's it for me", it is difficult to really realise it and accept "bok, I've already done that, now you have to work for real".
I had a friend who worked at Outback and I asked "how do you get in there? I've always heard that people make good money…". I got in and really got an absurd taste for it, because it's really cool, even with all the damn stress. I worked at the store in Alphaville, which was the second in Brazil and started doing it for real. Work, work, work. And I became a chain coach. I opened 3 stores and left afterwards. I left, and spent some time recovering my health, because I aged about 80 years there (laughs), I had to detoxify. Then I started to work with this brand licensing business, which is also very cool. And I'm there now. The pandemic got in the way a little, but what didn't it get in the way of, right?
Talking about sneakers now, what is your relationship with sneakers in general?
felipe It's the lifestyle, right? There are many people who say that you make the first eye contact with the sneakers than with the person's eye. I think sneakers say a lot about the person. And after watching this whole scene here or abroad, you see the size of it all. Whether it's the market, which is an absurd business itself, that every day launches like 800 different sneakers and all of them sell. Every time I look at the new releases I cry, because they drop like 10 things every day that I want and I can't buy. You can't buy them and it's hard to keep up (laughs). Then you get frustrated.
I remember one time, I bought a black Nike Air Max 90 in the United States and wore them every day until the soles fell apart, I didn't really take them off my feet. And I had other sneakers, but I only wore this one, at that time I didn't take care of my sneakers at all. I remember that I went to Comic Con, put on my sneakers, and I started to feel something strange under my feet, I started walking, I felt something crumbling, when I looked, I had no sole, I had completely busted them up, the sole fell right off! In the middle of Comic Con. I looked around and … I didn't feel embarrassed because there were people dressed far worse than how I was looking, but I looked at my shoes and said, I need to wear my sneakers, I need to take more care of them. I lost two Air Maxs like that.
So, in a way, back then when I used to get sneakers from Nike and Adidas I didn't give it the value it deserved, you know? The brands would just be like "ah, take this". Then I would use it, use it, play a lot of shows, then when it would get dirty and didn't even clean them. I really cared about other things. Then after I started to understand this, I sold everything I could sell, which hadn't fallen a part yet and bought it all over again. Then I said "Now I want to understand a little more about this, to know new people, to see new profiles, I want to know more".
And that's when I bought the Cortez, I already had this connection to movies, because of Forrest Gump, watching the Super Bowl, and watching Seinfeld when the guy used the Cortez. To see the story, the whole legal problems the shoe had when it first came out, I don't know. All of this marked the history of this sneaker. But I just can't understand, I don't know if I should be happy or if I should cry, but why doesn't the Cortez have the same hype as other silhouettes do. Like you go to stores in the United States and there they are for 60 dollars, 70 dollars, and you can find them in any store. I think how its story is so rich, the Blazer or the Cortez, that you weren't supposed to be able to find them in any store, they should be all sold out. If you like sneakers, it's worth buying one.
I'm not criticising anyone who has one, on the contrary, but how can a Travis Scott be more hyped than a Jordan sometimes? That's how it is. I know it's the market, I know it . But the stories have the most value to me. Everything that has a history, not just sneakers, anything expensive. Whether it's a restaurant, a store, I think that's what gives value to a lot of things, you know? It seems like the easy and quick  access to things turned out to be more of a negative thing as well. You know, nowadays it is very easy for you to know everything, you can travel without leaving your cell phone. And people are being lazy about reading, researching, and going after it to learn the stories, even with easy access.
"Every day launches like 800 different sneakers and all of them sell. Every time I look at the new releases I cry, because they drop like 10 things every day that I want and I can't buy. You can't buy them and it's hard to keep up (laughs)."
I agree, the most important thing are the stories. And that regardless of the brand, model, how much you paid for it, if someone gave it to you. Whatever. The important thing is what you went through with it.
felipe I think Hype is what you like, right? If you like, I don't know, a Kichute, that's your hype, it's really cool. Your dream is to have one of these, buy one and that's cool. Is your dream to have a Bamba? Awesome. Now if you want to have a Nike Dior, cool too. But go for what you believe you like. But nowadays the guy wants to have something because it's become his status, he will be recognized on the scene because he has these shoes and not this one. Like, if I go to an event with this Cortez, nobody will say anything. Maybe nobody might even know what these shoes are.
"They don't care if you're posting a beaten All Star or the dopest sneaker, they will compliment you, they understand that you like the same thing as they do. It's not like "he has those sneakers I don't have", there's no dispute like there is here in Brazil, you know?"
And what was the reason for your "transition" from one day selling all your sneakers and starting your collection from scratch?
felipe I played drums in my socks, I couldn't play wearing any sneaker. So I was kind of a  "screw my sneakers" type of guy. Then there was Nike and adidas that said "go to the showroom and take what you want". I was even embarrassed to get things from them. But I didn't give it the value it deserved because I got it for free. Everything changed when I realized that sneakers were a lifestyle, you get to know people just because of it, I got to know you guys because of sneakers. Like, it's cool as hell, it's cooler than any sneaker after all.
And when I left the band, I swore to myself that I would only play for Glória. I didn't want to play in any other band, whether that was right or wrong, I thought that. When I came back from California, there was a lot going on here. So whether it was for space, or whatever, I sold the instruments, everything, and sneakers. I needed to focus on other things. And I liked sneakers, so I started to meet people, I said "hey, I'm going to buy a shoe for me to take care of and wear a nice outfit with it". Not just put on and go. And as I had a lot of old stuff, from the time I took things from brands, I thought "I need to make some cash here to be able to buy the shoes I really want".
That's when I sold them all and bought all new ones. I  used to make some personalized cups at the time, and man, I got an order from Nike. I started saying "bro, there is something there, this culture is huge". You know it exists but you're not too aware. I met a lot of people because of that, and I started posting the photos. And during the pandemic, I had nothing to do so I started taking pictures, posting, and a lot of people from other countries began to show up. Then you start to see how they have a different approach to sneakers, they don't care if you're posting a beaten All Star or the dopest sneaker, they will compliment you, they understand that you like the same thing as they do. It's not like "he has those sneakers I don't have", there's no dispute like there is here in Brazil, you know?
I'm nothing on Instagram, the followers I have came from the band, and it's mostly people that don't care about sneakers, but now the ones that do like sneakers are mostly from abroad. There is a picture of me that I posted that I had like 80 reposts from abroad. I get pissed, I'm like "bro, what about the Brazilians?". It's like they see it, but they don't like it, or  don't want to show that they did. I hope I'm wrong, but that's what goes through my head. If you don't have anything to offer me, you are nothing. But fuck, it's just sneakers bro. We are much more than just sneakers.
For example, you do your interviews in English. It's for a reason. Cool, to expand? Ok. It has to be, the language is universal nowadays it is English, but they support it in another way I think. They see it in another way. They compliment you on your photos, there's a little something different.
I don't have any hyped sneakers, some because I don't like them, others because I can't buy them, others because I couldn't buy them (laughs). But people from abroad like everything, I posted my Cortez "classic, great, wonderful, it's cool, you have to have one and such". They don't care much about what you have, they just like that you have it, period. They are happy because you have it, not with what you have.
And which sneakers would you like to have but haven't managed to get yet?
felipe Good heavens … that's difficult. Like, for instance, I don't have any Jordans but I want to. I like Jordan IV, but I have always been very thin and Jordans look strange on me. They look like a clown shoe, I feel that they are very big on the foot. And that has pulled me back a little bit But I wanted to have Jordan 1, of course, Jordan IV I really like the silhouette. I wish I had more Blazers, like a bunch. I got more stuff here, like they launched the day of the dead again colorway again, I wish we got those here. I really like the Tailwind. I like Puma a lot too, they came hard with these RS-X line. I like Air Force I too; Vans does some really cool ones, those from MoMA that dropped, I find it very interesting. I really like basketball shoes too. I don't have many, but I like them. I bought the Zoom Freak 1 from Antetokounmpo, I like it a lot, it's very comfortable. It's hard to make a top something list  because seriously, there are so many. you feel like you want every single one that comes out.