03—23—2023
Pedro Andrade started his career in 2012 with the creation of the PIET brand. The brand, which started with a streetwear bias, has transformed over time into a brand that talks about your affective memories. With other wills as a designer and creator, Pedro realized that not all of his ideas fit within the PIET atmosphere and decided to create P_Andrade, a brand that talks about Pedro today, with a discourse on fashion, design, innovation, sustainability and technology . In our interview, Pedro talks about Rider, his first collaboration in 2017, and how the brand has turned into one of the coolest brands in flip-flops and sandals.
Photos by: Julio Nery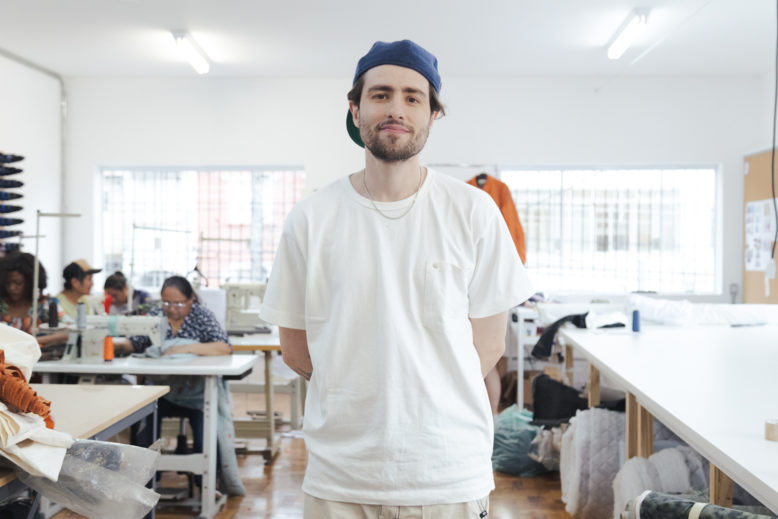 "My name is Pedro Andrade. I am a designer, stylist and designer in general. My career in fashion began in 2012 with PIET, which was born from a fictitious college project for a shoe brand. The name PIET comes from a My childhood nickname, which is what my mother calls me, and so I decided to use it for the brand."
What was the path that led PIET to consolidate itself as a recognized brand in the national and international market?
pedro The brand came up with a streetwear bias, something I had always experienced – whether it was skateboarding or basketball, I took references from songs and made the brand more and more like Pedro. A Pedro who was in his early twenties, and with specific tastes for that age. I realized that over time, I was transforming PIET into a brand that spoke about my affective memories – about streetwear and different moments in Pedro's life, with a certain sense of humor from adolescence and a young adult.
In the meantime, I was creating other wills as a human being, as a designer, as a creator, and I realized that at a certain point, not all of my ideas as a designer fit within the atmosphere of PIET, of what I created within this lifestyle of the brand. And then in 2019 I felt that my head was a little messed up because I tried to put everything I wanted to create into PIET, and it didn't always fit. Sometimes I wanted to do something with a stronger concept, with a more delicate topic to talk about, with a product complexity, or to test a different textile thing, a technology that didn't make sense, and things didn't fit together.
I realized that I was wanting to put another brand inside PIET and still keep it. And then I understood that the best alternative would be either for me to drop it and transform it into another brand, or to have two brands. After a long process of maturation I decided that I would have two brands, because PIET speaks of my past self, where I can revisit my youth, regardless of my age, if I am 30 or 70 years old, PIET… I "froze" young Pedro. Just like my childhood nickname, she stayed in this story and I find it very interesting because she manages to access people through affective memories.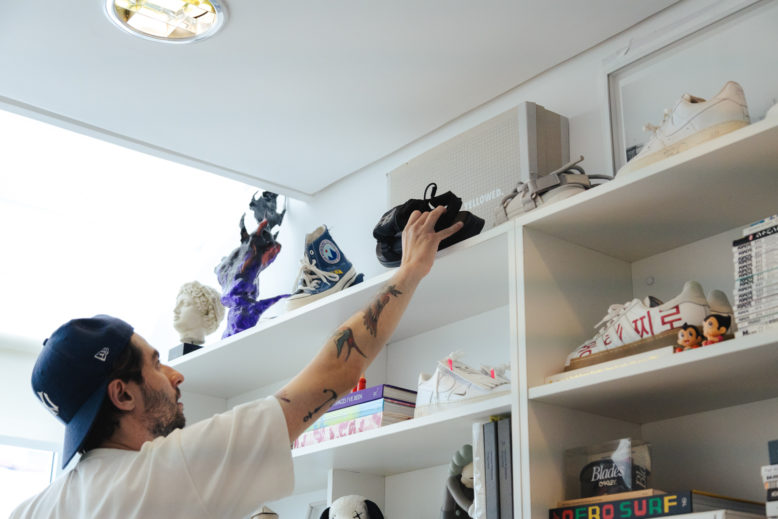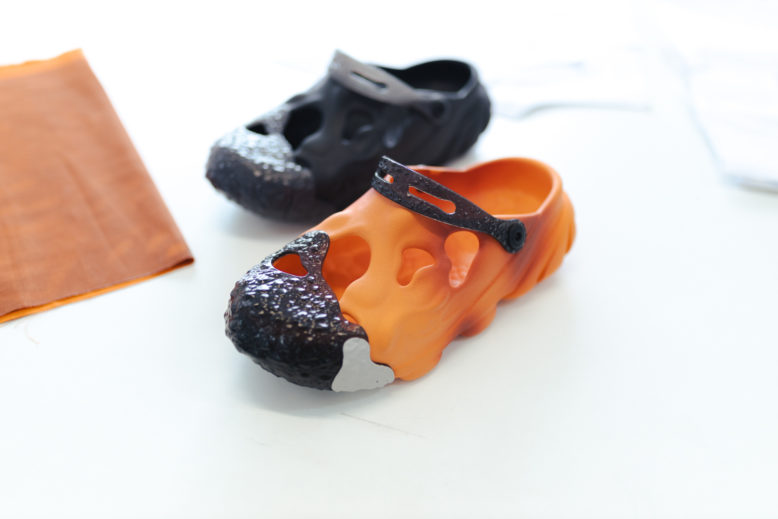 And what is the story behind P_Andrade? What was the inspiration to create it?
pedro P_Andrade was where I discovered that I could have an innovation laboratory. When P_A came to my mind, it was with the idea of being something that would reframe luxury. Luxury, I started to see it in an almost outdated way. I thought: "everyone has now really started to consume luxury. The millennials who were against luxury are now enjoying luxury again. Generation Z is starting to mix streetwear with luxury in a way that has never been seen before." And then I started to think that I can use fashion to give a new meaning to it and take a speech that it's okay for you to like luxury.
But what is luxury for you? This question led me to create P_Andrade – a brand with the same name, which talks about the current Pedro, the Pedro who is past 30, who looks elsewhere, who sees a concern for future generations, my future children, for my son of now. This brand has to have very rigid pillars to carry a discourse through fashion, design, innovation, science, sustainability and technology. When I talk about sustainability at P_Andrade, it's more complex than we usually see. We started to understand different layers of sustainability, and how we can use fashion to our advantage.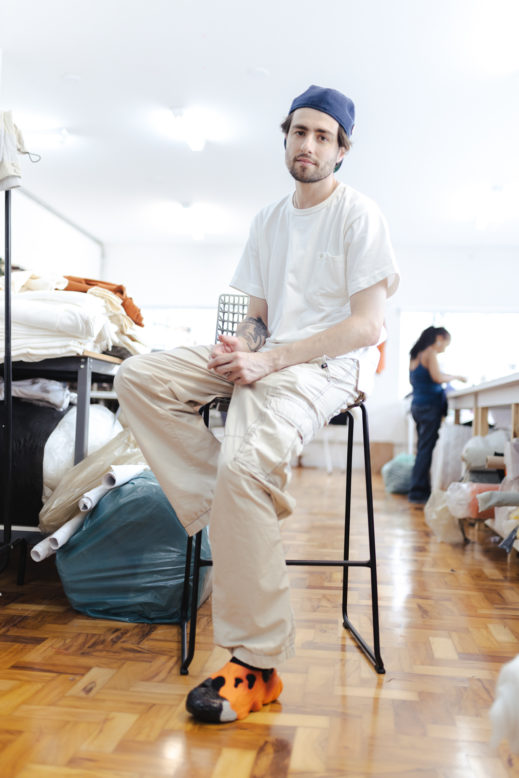 How did your relationship with Rider begin, which resulted in your first collaboration in 2017?
pedro My story with Rider starts when it is going through a very strong rebranding. And I've always said this openly – I think Rider's rebranding is a global success story. How difficult is it for you to leave a brand that is seen as older by an older audience, and suddenly become the coolest brand of flip flops and sandals. This is too hard.
I remember that in 2017 a friend asked me if I wanted to collaborate. I thought "wow, Rider is nostalgic. I talk about nostalgia, about affective memory". I saw that it had everything to do with it and I agreed. We started in 2017 with the Rider RX and from then on we felt a great synergy in product creation, and it was cool because they gave me a lot of freedom.
A year later I get a call from them, saying "Pedro, we are going to create a sandal called R Next. We are imagining what a sandal of the future would be. So Pedro, what is a sandal of the future, for you? Are you going to create a version of this sandal speaking within your lifestyle." At the time, I think that was one of my biggest product cases with the R Next Pocket. In the development process, I told them I was going to create something weird – because my idea of the future is a modular idea. It will have a waterproof pocket that you can take out, put on, fit into other things, uniting versatility with security.
We launched the sandal during one of my shows at São Paulo Fashion Week, and then we received a barrage of the funniest and most absurd comments possible about a sandal that had a giant pocket on the front. And then we saw that it was exactly on this point that we got it right. We launched it on the website and it sold out in 10 minutes. It had a very high print run compared to the others, with about 1,000 pairs. I think we got it right in terms of strangeness (laughs).
Rider is an old school, but it has been renewing itself, creating things with technology, with a sense of humor, with very young communication. And when they found me, I came from a new generation – this union was very conducive to the birth of new interesting products and they gave me that freedom.
After R Next Pocket I was asked: "what's the next step?". It was at the same time that P_Andrade was emerging, and together with Paula, who also took over the creative direction, we created the first sandal for P_A. My thought was "if PIET has a history of modularity, weirdness, what is this one going to do?" She will talk about Brazil, tell stories about our country that were not obvious. I was talking about Brazilian vegetation and modern architecture. In this collection, I had a very specific color chart coming from shades of gray, which spoke about reinforced concrete, Brazilian constructions, architectural modernism. And then they went to the vegetation, and from the vine rope we created this sandal. This was the first version that we made sustainable. We carried out a survey together with Rider's sustainability team, which found alternatives for recycled fibers, raw material for pre- and post-consumer recycled soles, with a very low carbon footprint.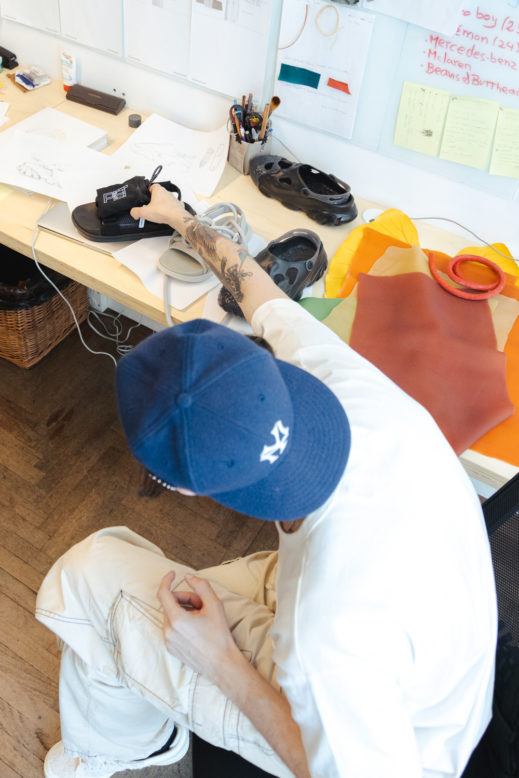 During your career, you've collaborated on several tennis projects. Now, at Rider, you face the challenge of developing designs for flip-flops, papettes and other types of footwear. How did you face this challenge?
pedro When I started creating with Rider in 2017, I confess that it was a challenge because I thought the story of sandals was cool, but the sneakerhead of that time was hardly open to other types of footwear, it was still very niche. It was a challenge of how my audience, who are usually very sneakerhead or from the streetwear universe, how will they like this sandal that I'm going to create? That was the challenge.
The pocket on the Rider R Next inspired me to create multiple layers, adding a shoe-like dimension of toughness, which allowed for an interesting play with textures, different graphics, overlays, sock, no sock, made it a new shoe niche. If the person is wearing a sock and you look at it from afar, you don't know if it's a sandal, a sneaker, or what it is.
Over these years, I as a designer have also evolved and freed myself up to create. And I've always been a big fan of the new. If I turn my nose up before analyzing the new and absorbing that idea as it should be absorbed, I won't be able to learn, I won't be able to evolve.
What was the inspiration behind the design of the Rider FrogR P_A and how did you incorporate frog anatomy and textures into the design?
pedro The concept for this shoe came from my study on the frogs of the anura class, the poison dart frogs. During my study of Amazonian fauna, I discovered arrowhead frogs and became obsessed. So I decided to make a collection that will talk about the different types of frogs, creating pieces that, through texture, shapes, colors, tell this story.
When I created this sandal, I studied their anatomy a lot, and I wanted to bring subtle elements to the design. I also wanted, in the form of good humor, to bring that affliction that people have of the frog, of it being sticky – which it isn't, you know, but people think so – so there's this game of looking like goo on top. In addition, we were creating a nuance of frog skin textures on the 'upper' of the sandal. Inside it too, we have these bubbles that complement this frog texture story and that also gives a lot of extra comfort.
Another detail is that the sole has the exact shape of a frog's paw, so when you step on sand, dirt or somewhere wet, you will leave a giant frog footprint. At the same time, I wanted to bring a backplate that spoke about technology and sport, so I was inspired by the lines of a frog, but with the texture and face of a sports shoe. So the idea of this shoe was to bring weirdness up a notch – it had to be as weird as a frog. The frog is a very beautiful and totally strange animal at the same time, it doesn't even seem like he's from this planet. That was my fascination to create this collection and, consequently, to create this footwear.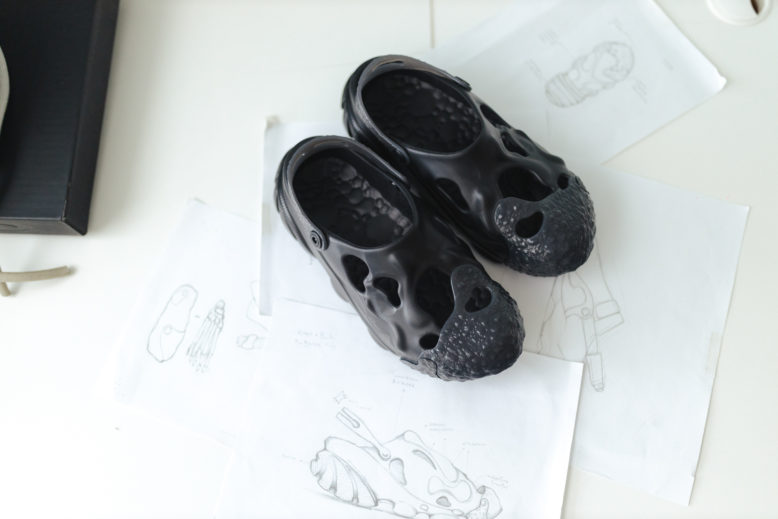 What is the origin of the materials used in the manufacture of these shoes?
pedro This shoe was made from a green, plant-based polymer. Most of these shoes, we removed most of the plastic from it, petroleum derivatives, and replaced it with a plant-based polymer. Consequently, we leave him with a much smaller carbon footprint. The parts that are not made from plant-based polymer are made from recycled materials, coming from materials from the Grendene factory itself, so it is a shoe where we managed to raise our level of sustainability even further. It was extremely rewarding to be able to produce injected footwear that represents a step forward in reducing the use of oil.
You can buy the collaboration in several stores in São Paulo and on Rider's website.