Bea Partington is graduated in advertising and Kym Kobayashi in graphic design, in addition to being a couple, they share a common passion: Sneakers. The background of the two is made up of working at shops or brands related to the world of streetwear, and for today's shooting, the shoes chosen are special not only for Bea and Kym but also for the sneaker culture. They told us why this Air Max 1 'Master' was chosen for the interview and everything they had to go through to get their own.
BEA: "I'm 27 years old and I work with advertising. I started working in an agency with sneakers brands in 2015 and I've worked with Asics, Asics Tiger, Onitsuka Tiger, Converse, and Crocs, just to even things out (laughs). I was a community manager at Nike when we did the project for the Air Max House in 2017, which was excellent, incredible, challenging and really intense. Later on, I left the agency and started working at Artwalk, so basically, I always worked with sneakers and when I tried not to, I didn't like it – I only lasted 1 month in that company. But that's it… and I like sneakers (laughs)."
KYM: "I'm 26 years old, I have a degree in graphic design and I started working as a product developer for DC Shoes when I was 18. At that time I was already a bit into the sneakerhead culture and had a few pairs, but nothing too special, but I already had that established in my head, I was just stacking up sneakers more than just collecting them. After my experience at DC, in 2015 I worked also as a product developer at Quicksilver, and I graduated during that same time. After 3 years I left, stopped working for a while and then I got a job at Your ID and I've been there since. I do a bit of everything over there: Campaigns, production, social media, art directing and so on, everything involving Your ID we do ourselves.
I was also an apprentice for a plastic and graffiti artist called Flip for almost 2 years. I would pay the bills, clean bathrooms, paint what had to be painted, bought supplies etc. We had a strong bond like master and apprentice, you know? He's my good friend till today, sometimes we bump into each other Downtown. I paint sometimes… I ended up studying design because I thought it was an opportunity to expand this artistic vision I had."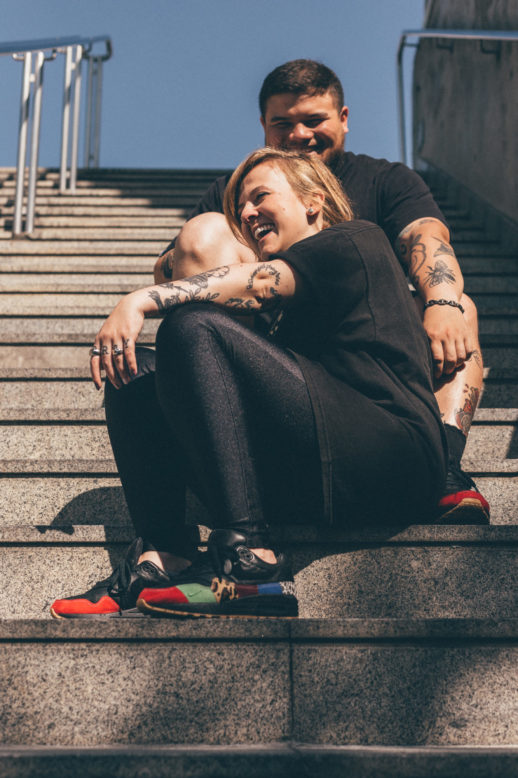 How did you two meet?
KYMShe loves telling this story (laughs).
BEAI think it's cute! We went to the same school and we were friends. You were in your first year and I in my second year of high school. We had a friend in common, so we weren't always together but we liked the same stuff we had a lot in common… I'll never forget the Guru's Jazzmatazz CD that I lent to him.
KYMDid I give it back?
BEAYes, you were really kind (laughs). And so we were buddies, there were some flirting that happened back during school but nothing happened. Later on, we met during a birthday of that friend we had in common, we hooked up, and we never let each other go since then.
When and how did your relationship with sneakers begin?
KYMMy first one was a Dunk low in 2005 at the Maze of Augusta, it was the first pair that I saw, really liked and my dad ended up getting them for me. In 2003 I had a sneaker that I would wear to go out and another to go to school – I think that that's why I had this thing of having a lot of sneakers and not wanting to repeat them, this phase lasted a long time. Later on when we went to live together and a lot of shit when down I gave up everything – today I only have what I wear. If I look at a pair that I don't think I'll wear too much, I'll give them up, I'll sell them, swap them, I'll figure something out.
Today my favorite sneaker is the Vans Old Skool because I know that I can buy them, put them on and I won't feel bad on ruining them or getting them dirty. I wear them a lot and she gets mad because I wear dirty sneakers (laughs).
BEAMine was the Gel Lyte V x Naked 'Hafnia'. At the time we were low on cash, I already worked for the brand but I didn't know how to get them. They ended up not selling them in the end, but I got the sneakers. It was so cool, it was the best Christmas present ever. It was with this sneaker that I started to research about its story and its context to learn more about them.
Once I got an Air Jordan XI Space Jam for my birthday, but I got super upset because it didn't come in the original Space Jam box, they came in some regular Jordan box – I wanted to buy them just for the box! I love the movie, I think it's my favorite. At the time I was working at Nike and I even said to them "How can you guys send something like this without the box?" and this was all because my Jordans were kids size.
KYMKids sizes don't get the same kind of work that they put in adult collaborations.
BEAI was really upset because it wasn't just any sneaker, they were really dope sneakers!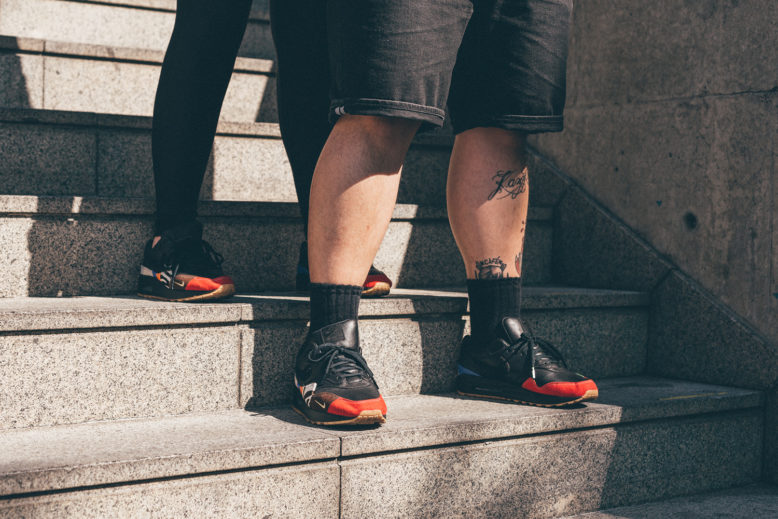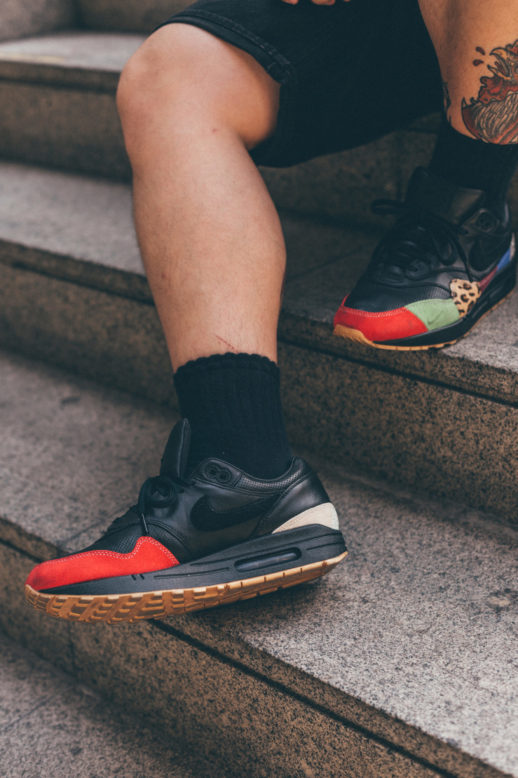 Do you consider yourselves sneakerheads?
KYMI think nowadays the word sneakerhead is almost derogatory. I like to say that you don't necessarily need to own to know. Nowadays I know, I talk about, I even have that show on Your ID and not necessarily everything I talk about I like or own. But I do think I'm a sneakerhead, even though we're not buying everything, we always know about everything – whether it's because of work or just curiosity. Almost all our friends are from this scene, especially the ones who usually come to our house.
BEAWe consume the culture in a very healthy way.
KYMSometimes it's a lot cooler to talk about sneakers than actually having them. I think we're a lot more sneakerheads than collectors.
Only 96 pairs of Air Max 'Masters' were available, what was the story of how you were able to buy your pairs?
KYMIt was a Thursday and a bunch of actions for the Air Max month was going down, that day there was a party at Guadalupe. I got out of work with a friend and we went there, I really wanted to cop these sneakers and when I got there some people I knew told me that the line was already closed but that there was another line starting over at Maze. We didn't even get into the party, we just went there and when we arrived was no line, so we were the first ones – we stood there from Thursday until Saturday morning. When other people began to arrive, I called some friends so we wouldn't be alone and the line just started growing. It was very funny and tense at the same time because I couldn't take it anymore. Nowadays I'll hardly get in line, only if it's something that's really worth it.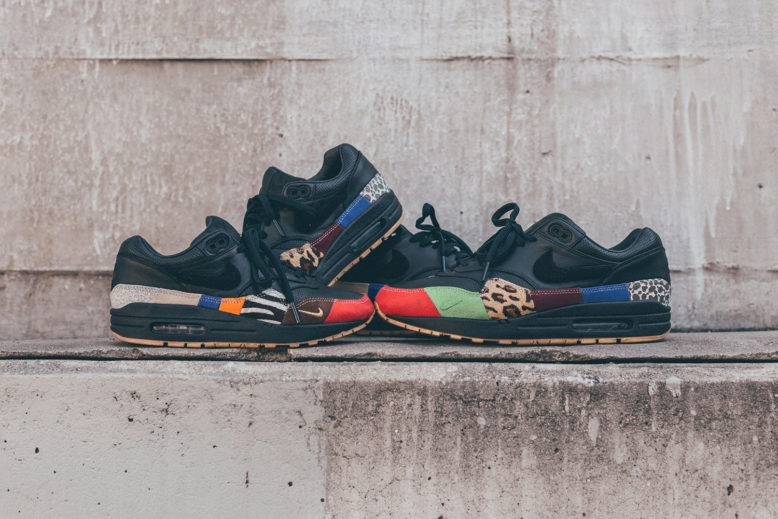 BEAI got there at night because I was working at the Air Max house – it was right at the House's opening weekend. I went to the line not knowing if I was going to buy the sneakers because I didn't have the money, but I got in a friend of Kym's place in line, I was the last one and I got the last pair that was left, which in that case was my size, it was really bizarre. It was really cool too because I was going through a very intense moment, it was a great achievement, it was pretty cool to live all that.
Then the owner of the agency I worked for came to Brazil – he designed and created that 360 ​​room in the house, he's very good. During the meeting, he asked if there was anyone who really liked sneakers that was working on the project, and I raised my hand with the Master on my foot. It was very special, personally and professionally.
When we moved we went through a lot of difficulties, it was very bizarre, then when we bought the Master, we didn't even notice, but it was the moment when we actually managed to live normally, paying our bills and having some kind of pleasure in things.
KYMThis is the only sneaker we have today, that we wouldn't sell or trade for anything.