"My name is Marcelo (Mad) and I'm 36 years old. I'm manager of Your ID store over at Benedito Calixto and I like sneakers a little bit (laughs)."
Mad, what's your relationship with sneaker on a daily basis, what do they represent to you?
madSneakers mean a lot to those who truly like them, not for the status, you have like real love for the sneakers, they are good for you. Buying them, researching, looking at them, its all really dope. Every day I'm out there researching and looking, its normal. I do this because I like it.
Do you know when all this started, when you began to like sneakers?
madI've been buying sneakers for a long time now, I started buying them not so I could be a sneakerhead as they say, but because I liked them. So you buy a sneaker so can ride your skateboard, then you find out that that sneaker has a story behind it, and that some dude put all his attention and effort into making this sneaker. You also notice that there's a hidden pocket, there's a extra lace, that it has better leather, all this fascinates you. Have you ever stroked suede and watched it change color? (laughs), that's insane.
From 2000 there has been a boom of Nike SB, and brands started to realize that this market could really expand, and that it was way more than just a skateboarding shoe, way more than Air Jordans, way more than all that – they became historic products.
Do you have any relationship with the Nike Cortez?
madThe Cortez is one of Nike's most classic sneaker, and I think that it takes most people back to the movie Forrest Gump, in which he uses the original colorway, and is known now a days as the Forrest Gump colorway. The models is most used by the cholos, it's like their uniform. And once Nike got that, they started making a lot of different colorways – there are some fucking dope celebration editions of Cortez.
This is a sneaker that really stands out for latin-american culture, bands like Cypress Hill or Psycho Realm, all wear the same "uniforms" on their music videos: jeans and Nike Cortez, all of them use it. Its cool because it was a performance shoe, then became a inline shoe but with some pretty cool colorways.
I would like to have more of them because they are such a casual shoe. Speaking of Nike, they have some casual models but not as traditional as other brands. And the Cortez is to me, the model that best fits the casual look, that is the closest to the other european brands.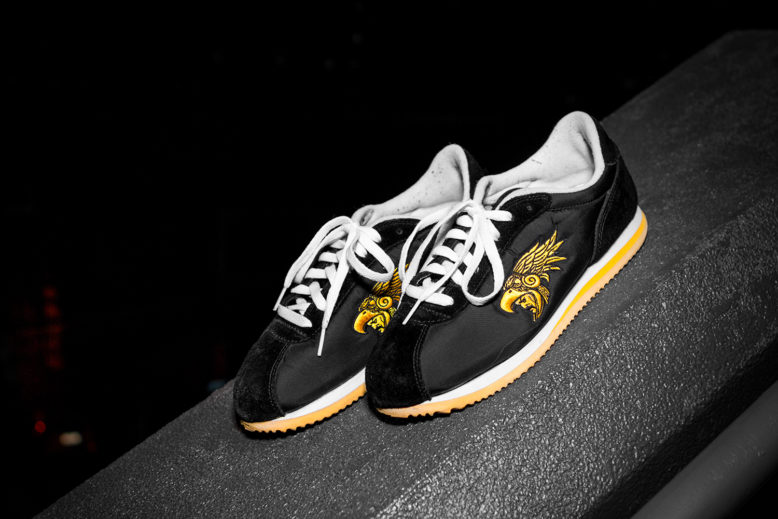 Do you have any specific stories with them, or how you got them? Because they'r both very exclusive editions.
madThese are both Mister Cartoon editions, the only colorways that I could grab when Twothousandand Murinho worked at The Lab store a few years back. Murinho would constantly go to the US, because back then there wasn't so many sneakers in Brazil.
I give it a lot of credit because, to bring those sneakers to resell them in Brazil,
you had to have some balls to make a run like that back then. Because at that time, it wasn't everyone who knew or bought that kind of sneaker, it was a very restrict market, that few people knew about. For example, people didn't go to Galeria do Rock, it was unthinkable to see dudes sleeping in lines as they do now. When the Air Yeezy 1 released, there was shoes left on the shelf, because no one had the guts to stay in line overnight in the center to get the sneakers. Going back before 2010, it was really sketchy spending the night in the center, no one had the guts because back then there were all these divisions: there were the rap guys downstair, and right above there were the punks, there was the skins bar, and a lot of fights broke out at the Galeria. Nowadays anyone can buy some sneakers there, I think it's cool to see more people going there. But even so there are still people that complain you know, they say "damn we barely get any sneakers in Brazil",  that dude doesn't know what it was like to buy sneakers in 2005 (laughs).
With these latest Jeff Staples Pumas, he had the idea of releasing each colorway in a different continent so people had to go back to how it went down back in the day, for example: If you know someone who's in Japan, you ask them to bring you the pair that was only released in Japan.
On the last issue of SneakersBR they published an interview with Koji, the founder of Atmos, in which he talks about exactly that. That he wanted to release a sneaker only in Japan, so that people had to go there to get them, because in the 90s Koji had to go to the US just to get the colorway.
madYeah, that's exactly it, but to those guys it was no big deal going in and out of the US, it was easy to get visas, passports, but to people like us? Here it's all underground bro. (laughs). It was all worse because brazilians were labeled as smugglers, and everyone had that misconception.
Nike Cortez Mister Cartoon & Aztec
Owner: Marcelo Baptista
Bought: 2005
Size: BR39/US8.5
Photos by: Kickstory