This week our interview is with the creative director from Rio Marcelo! With his own original style, Marcelo made his way into photography, inserting himself into São Paulo's world of rap, producing images – photos and videos – and becoming a reference for what is going on in the scene with his 90s aesthetics. He told us about how he moved to São Paulo, about his references in life and how he got and turned his Adidas x Jeremy Scott into a one of a kind sneaker.
"I consider myself a creative director, it's basically creating things from images, regardless of being videos, photos, backstage, not being my images, anyway what I do today is creat, that's why I consider myself a creative director."
How was your journey from Rio to São Paulo?
marceloI just came, I worked for the newspaper, I got my unemployment insurance, three parts of my FGTS, a backpack, five shirts, three shorts, my camera, a lot of willpower and just I came. I didn't intend to live, work, live and die here. I thought "bro, I have to go to São Paulo because that's where things are happening and I'm getting left behind here.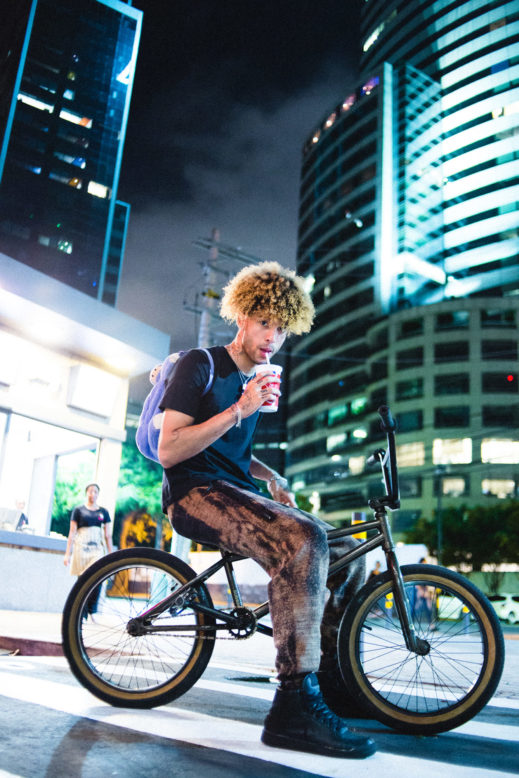 Did you start working with photography in Rio?
marceloIn fact, I never really worked with photography, it was always my hobby, I got some work out of it but it never was something that paid my rent every month. I saw it as extra income. Photography gave me more access than money and to me, access is more valuable than money. I work with video art, video editing, and photo editing, but photography is my hobby and always has been.
Why did you choose São Paulo?
marceloBecause São Paulo moves all money, everything here is in motion and people only talk about progress, if you talk to anyone, they have a project to show you or something to show you. But in Rio everybody is just ok, doing their jobs, satisfied … Bro, I'm not satisfied with my things, nor here in São Paulo, I want more, you know? In Brazil, São Paulo is the connection point to the rest of the world.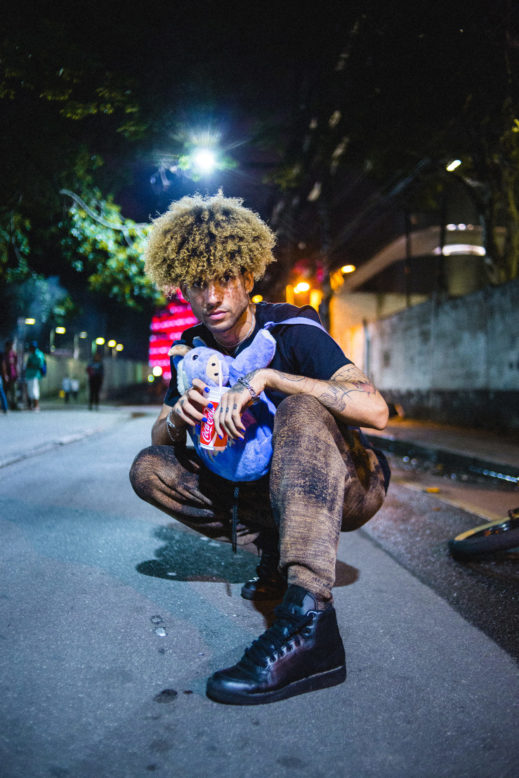 What are your references in fashion, style, photography and even life?
marceloEverything is summarized in Japan, the country is the reference for everything. I'll give a simple example, Dragon Ball Z nº17 to me is a fashion reference because the dude wears a cropped top, you feel me? And from that, I already get a lot of references. The people who inspire me most are my friends – Julio Nery, Chiquinho, I tattoo the things my friends do on my face. The people who are close to me are the ones who inspire me and the rest is Japan. I hardly consume things that come from the United States because I think it sucks, it's all a conditioned mass, in Japan, it's more historical.
One day I'm going to live there – I'll delete all my stuff on the Internet, make lots of money there and become legend. People will be like, "Remember that dude that did this and that?" and they will say "I know, this kid died, disappeared, I don't know" and I'll be there in Japan, living the things I love.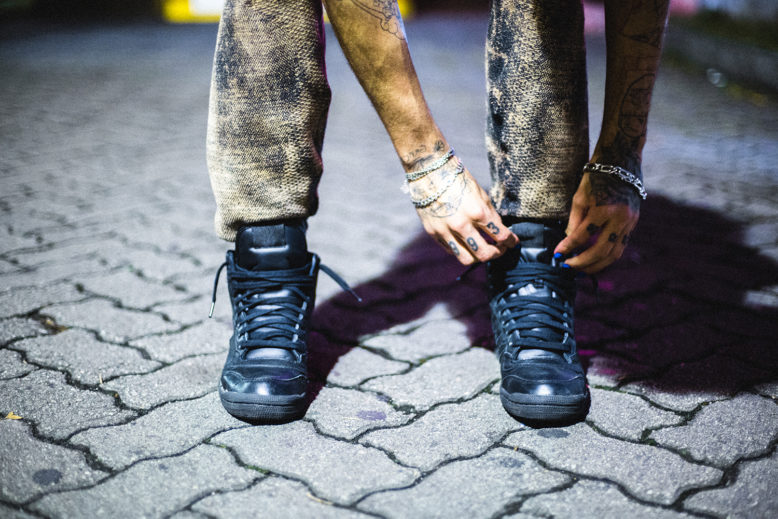 What is your relationship with sneakers in general?
marceloSometimes you will make your outfit according to the sneakers you are wearing, I think sneakers are kind of the basis for that. Also, sneakers are an extension of who you are; you wear the sneakers of a certain stylist people who know what you are wearing knows you understand the concept. If you wear sneakers that everyone wears, and they don't have a story to tell, people will know that you have no stories to tell. That's it, for me, sneakers are an extension of everything.
Now the sneakers still I want to have is this Jeremy Scott in white and the Bapesta which is another sneaker that has a huge history, a concept behind. It was released during the war and the people couldn't use Nike because it was connected with capitalism – so the guys went there and made Bape's own Air Force.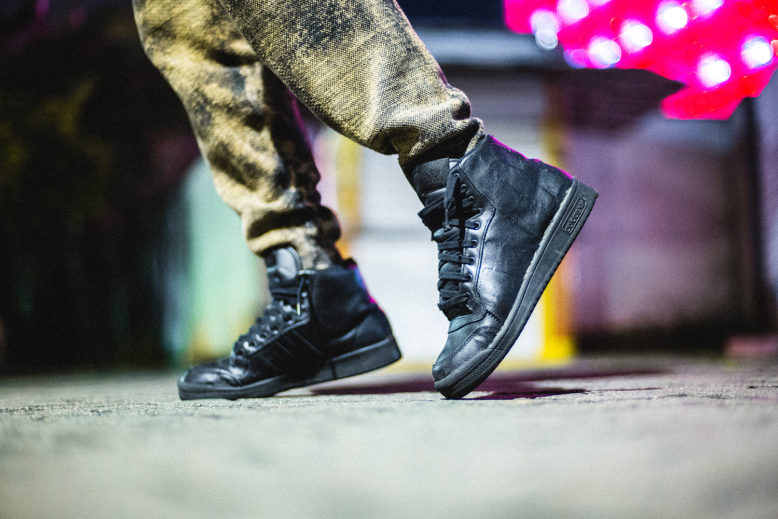 And why did you choose this Adidas vs. Jeremy Scott for this photoshoot?
marceloThis Jeremy Scott was the first real brand sneaker I had, I had a Nike Cortez, which I got and wore them for 5 years. But actual brand, brand meaning that it has a concept, that I saw in a fashion show, I saw A$AP Rocky, Young Thug, using it, Lil Wayne, was this Jeremy Scott.
I always wanted to have this one, so when I was able to get them it was pretty cool. Adidas base gave me the opportunity to get some stuff there and they asked me "What do you need?" I told them right away "I wanted this 8-year-old sneaker" and they had one exactly my size! The first day I used them, I was so happy that I went to a rap show, and I got into a headbanging, I already fucked them all up – I tore them up right from the start. I flew for the first time with these sneakers, I look back and see a lot of stuff that I've been through with this sneaker, it was an achievement. This Jeremy Scott is very rare, you can't find one out there today, even though at that time it came at an affordable price.
I'm a big fan of Jeremy Scott, he represents so much of me, he ate the bread baked by the devil and now he sets fashion trends around, the world.
And why did you take the letters off?
marceloThere was this day that I wanted a basic black on black sneaker, and that's it, I put the razor down on them. I was a bit saturated with the huge letters and the shape of this sneaker is pretty fucking awesome, it looks like an Air Force 1. People think it's a Superstar, but Adidas doesn't make sneakers like that, they just made this one for this collab.
Do you have any stories with them?
marceloI've hit others with them, you know? (Laughs) In fact, I protected a friend and I think that if I didn't have this sneaker on I would have gotten hurt. I kicked the dude's elbow and the sneakers held up. Like stories was just this one, the rest was normal.