Nego E is involved in projects like @massive.culture and @artefato_, he's an MC, DJ, music producer, audiovisual director and whatever else you need. Influenced by Rap culture since his childhood, he talked to us about music, fashion, references, as well as his passion for the Air Force since young. Not surprisingly the sneaker chosen for the interview was his first – the model's 25th anniversary "Players" edition – responsible for this sneaker becoming his favorite.
"I'm 26 years old with a degree in Marketing. I usually say that I do a lot of stuff that people don't that I do, and that I'm a part of a lot of things people don't really know I've done.  I'm a music producer, audiovisual director, Mc, Dj and whatever else you need (laugh)."
You're involved with projects such as Artefato, Massive Culture and other. Could you tell us a bit about them and what is your roll in each one?
nego eMy role is just to do it bro (laughs). I have a producing company and a label called Artefato, in which we manage the carriers of a few Rap artists, people from São Paulo and from Minas, and I manage my own carrier as well – doing this thing of being a Dj and event curator. Last year I had the pleasure of working more with Nike and curating some of their events, like Battle Force, which was something very important – it was the Air Force 35th anniversary celebration – which is a very important sneaker for me and it was just so dope being part of this event.
I usually adjust myself according to the demand. If I feel like being a Dj I'll lock down on that, play my sets. If I want to make an album, I just to it. If I want to produce the guys, I'll go and produce the guys. I can use where I want to put all my energy.
Where does your passion for music come from?
nego eIt's crazy because my family has no musicians, I didn't have any influences at home, but when I was 7, I joined the school choir. I always say that the last thing I should be doing is Rap – I went to a nun school from 1st to 4th grade and from 5th all the way to the 3rd year of high school in a Police school. So if there anyone who can critic it's me, you know? So when it comes to the church or the police I think I got the content to talk about them (laughs). What I learned there are teachings, but they come as a doctrine to you, so music is a part of my life because I went after it. I saw that I was good at writing, connecting words, telling stories and that somehow turned into Rap.
First Rap I wrote was because my friend was in a shooting, he got caught in the middle of the flying bullets and I just turned that into rhymes, I was probably 9 years old at that time. I started to like it and started listening and learning more, with national and international references and realizing I could do that too. So that's why today, I don't do just music, I'm in music. I don't just make music because I believe it can be so much more, music depends on managing, planning, publishing etc.
How do you relate style with the world of music?
nego eIt's crazy because it's something that comes in the package when you start to get into rap. You get that it's a big culture and it brings a huge amount of information that you never had before – it's the same thing as if you started to like Rock our Grunge – it comes with this huge load of information that you just have to get used to. it comes with clothes, the way you speak, the way you walk on the street, the way you greet people, my music came with all that.
I'm a kid from the east side, from a neighborhood where the only rap music that was on was Racionas, besides that it was only Pagode, Axé, Samba, all that stuff becomes an influence on you somehow, to see that it's black people making art. Later on, I started getting into fashion and to pay more attention to the who style thing. For a while now my biggest reference is Kanye West, apart from all the craziness, but even that is also a reference. What Tyler is doing is dope as well. Virgil is kind of a new passion, I've known about him for 3 or 4 years now, I already knew his work, just didn't know it was his.
But I miss some national references, I think there's a lack of references that aren't just copies of stuff we see in America – the problem isn't being Americanized, we have to understand that it's where this thing comes from and that in some way the sneakers we and the clothes we wear come from there. Nowadays we have really good brands like High or On The Run, that were able to adapt their stuff really well to the Brazilian market. The photos are dope, the clothes are dope and that's what we need! Our Rap is something that has always lacked good national references because when there were a lot of clothes we lacked music and when there was a lot a music we lack the rest – to find this balance nowadays is way easier, we have a lot more access, we can look it up on the internet, talk about it and even import some clothes.
I have a portal called Massive Culture, that tries to bring a bit of news and show more of this universe – it's easy, it's nothing impossible – to dress well, when you want something and you are able to wear it and adapt it. It's working with what you got, know how to use it.
What's your relation with sneakers in general?
nego eMy relation comes from this thing of me being inside the rap universe, more as a listener than as someone who makes rap. It was a time when we watch music videos on MixTv man, everything we saw on TV we somehow wanted to have because it was all very distant from us. I always had this good relationship with the center of the city, since I went to the nun school in Liberdade, I already had this relationship with the Orient, with the dudes that were ahead with technology, they were so ahead of their time, I was always choked.
My dad would take me a lot to Galeria do Rock when I was a kid – 8 or 9 years old. He would cut his hair and I would go have a look around. I would look at the chains, the sneakers the big clothes, it was everything I saw on the music videos, somehow making their way to me – because on your local stores there were only surf clothes. This proximity with sneakers turned into this, this relationship with the Center and to see the things from TV up close. So I started to like it, to get a bit mo interested, I wasn't crazy for sneaker or nothing – I was a school kid, I just wanted some new soccer boots and look good (laughs).
You've already mentioned it but you don't consider yourself a sneakerhead right?
nego eI say I don't because of the role they play today, it's crazy. I think I see the same thing with records, with people that used to collect vinyl discs. This Air Force is 11 years old, does keeping a sneaker for 11 years make you a sneakerhead? Even if it's all fucked up but has a lot of emotional memory to me? When I get rich I'm going to put them in an acrylic box with my sneaker collection? Probably, but I'm not sure that makes me a sneakerhead. I like it, but I like it more in general than to just study one specific sneaker or brand.
And these people that collect and now everything are messed up because involuntarily they stare at you with that superior look you know? For example, everyone is wearing their Off-White than you show up with some Air Max 90s and everybody stares at you with that look you know? Damn son, it's what I got!
What's your relationship with this Nike Air Force 1 "Players"?
nego eThis was my first Air Force – it's from 2007 and I bought it the same year at Galeria Presidente (which is right next to Galeria do Rock), with the money I got from my internship at Poupatempo. My birthday had already passed, it's on the 31st of December, so it's hard to get presents (laughs) and I went to check out the new releases, I didn't know which one was the model but I fell in love right away, because I remembered there was some promotional stuff here. The store had posters of the guys wearing Air Force uniforms, it was so dope! I fell in love with the sneaker but I was short on 200 reais, and that was the first time my dad helped me out with sneakers bro, he saw that I really wanted that one, so he took me to Galeria and said: "Let's go get it".
I got these sneakers and somehow, I'm not sure how I kept them. It was kind of an unconscious memory: My first Air Force, the first sneaker I really wanted and I used a lot too, I never had this attachment with sneakers where you get them and leave them in the box. Once I get them I wear them,  I wear them a lot. I take way less care of them than I should, but it's all part of it.
This was a crazy time for me because I was working, I was a teenager, I had no bills to pay, so I bought a lot of sneakers at that time, I was an outfit rat, to a point where I would go to the South Zone to buy sneakers. When I got this Air Force, I discovered it was my favorite sneaker. Today I must have 12 or 13 pairs, but at some point, it reached 20. Besides having some scattered around the house, which I ended up keeping, like this one here. While the rubber does not rot we're wearing it.
I like Air Forces so much that the first Jordan I bought was that hybrid one with an Air Force. Now he's all fucked up because I've had them for a long time and I play basketball with them, and it's funny because everybody likes them because they're old! It has the same sole as the Air Force but it has the air bubble showing, it is all fucked in inside but the rubber is intact, it's very crazy.
The thing I like the most about the Air Force 1 is something that I also have in my work which is legacy – To me, the Air Force is a sneaker that leaves a legacy – I can remember an Air force 1 from 5 years ago, from 10 years ago. That doesn't happen with other sneakers I've had like the Air Max, they didn't stay in my memory. And to me the Air Force 1 is Nike's legacy, they made something dope for the market, they made a sneaker that has music! People make music for this shoes, willingly, without Nike paying them a penny, because it's a sneaker that's part of a culture, just the Adidas superstars in the 80s.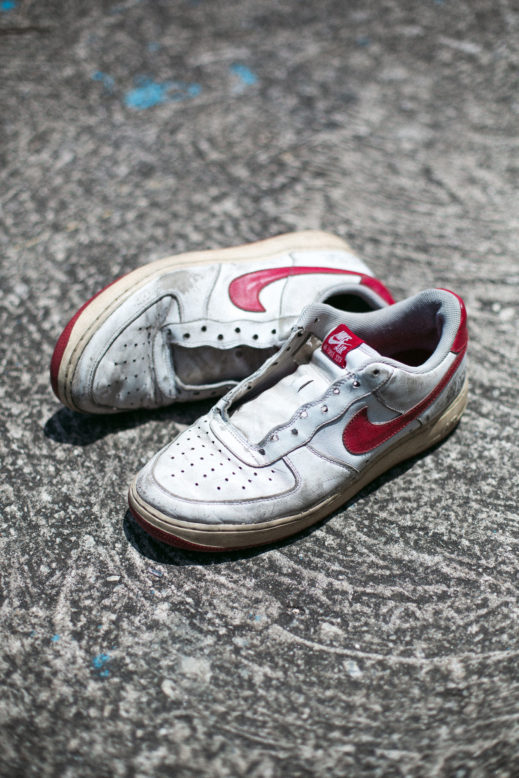 Do you have any stories with them?
nego eSince they're from 2007, I spent a lot of time with him on my feet, it was the sneakers I wore at school, so they were a part of many moments. I even played ball in them, today I think it's a sin to do that, but I did it in my teenage years because it was what I had. I focused a lot more on having fun and being there in the moment, regardless of what I was wearing, worrying about my sneakers. But today, at 26, I don't go out to Carnival with some dope sneaker, you know?
This sneaker where a big part of my teenage years and it has a lot to do with self-esteem as well – I was always the favorite black kid in the room because I wasn't some cute little white boy, but you're feeling good because you're wearing something dope just like people like you are wearing in the music videos, in movies, in Galeria, which was a place you went to see people like you. This sneaker was part of my adolescence and helped shape my self-esteem.
What is your dream sneaker?
nego eThat's a hard one (laughs). But the Nike Yeezy Red October, the Net/Net is almost a dream sneaker because I wanted to have it so much but I was very young and didn't know how the mechanics worked, I ended up losing the line. But Nike tricked me because I called them asking if it was going drop in the Pinheiros store, back when there was a store in Pinheiros, and they said no, and in the end, they released at that store. I was really pissed.