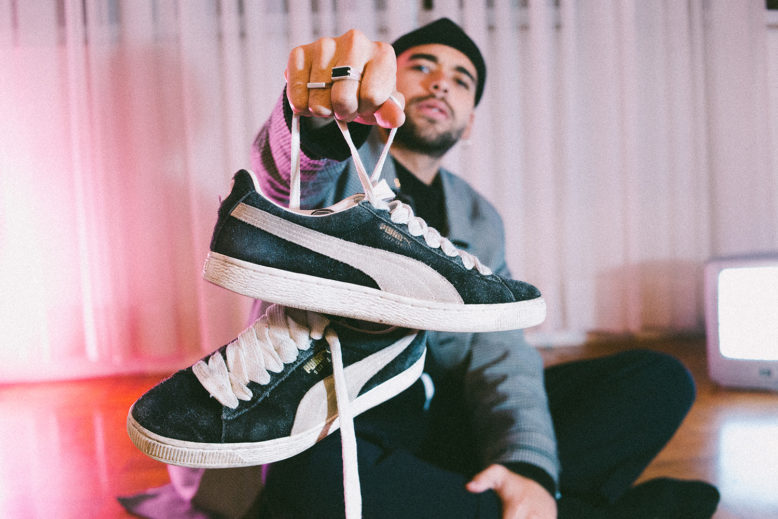 Rafael Americo is a bit of everything: actor, designer, musician and besides all that he works at the marketing of Puma. But it was only after living in London that he discovered his real interest — Fashion. Rafa chose this Puma Suede for his interview because not only it's his favorite model, but it was also the shoe that accompanied him through different countries during his Eurotrip.
"I'm Rafa Americo and I'm 26 years old. I'm an actor, designer, musician and I work at Puma… What else am I? I'm a bunch of things, but at the end of the day I'm just Rafa."
Do you remember when your interest in fashion began?
rafaelMy interested in fashion started when I was living in London and it was when I really understood what fashion truly was. Unfortunately, the culture in Brazil cuts you off, it puts so many limits and patterns that you get locked in a limbo that doesn't let you see things further, in a different way, you know? This happens not only in fashion but in other creative areas. So when I went to London, I could understand that there was a world where I could be whatever I wanted to be, whenever I wanted, and that I could dress the way I wanted without the fear of someone saying something. And if they say, let them say, bothering is cool. Go there opened my mind to fashion and artistic references on such a huge level.
Do you have any plans to make a carrier out of it?
rafaelI've created a lot of brands, but none left the paper. And actually, that's good, because they all sucked. Nowadays there are so many awesome brands out there, Brazilian brands included, that I asked myself how do you build a brand that stands out in some way, both in style and consumption model. While I don't find the formula I keep thinking, but I do think about having my own brand one day, fashion is something that's within me.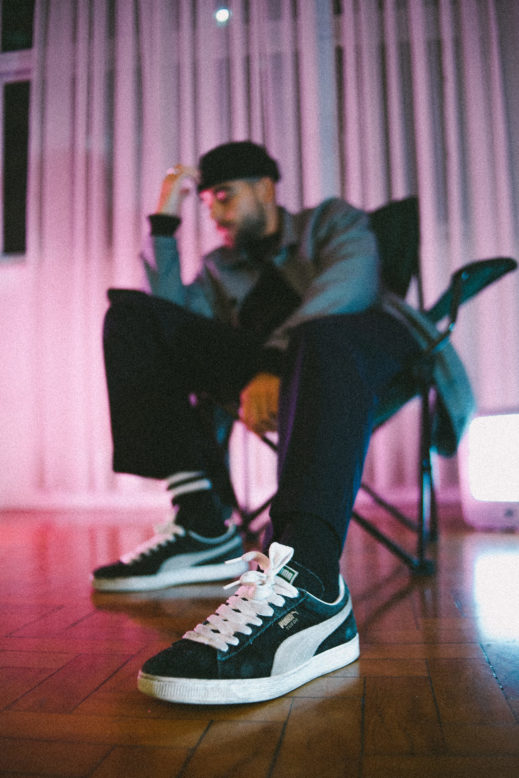 You've been working at Puma Brasil for almost 4 years. What was your path to get there?
rafaelMy story with Puma started back in 2012, right after I returned from London. I did an interview there 2 months after I got back and I got the final stage of the process but didn't get the spot because of lacking of experience. I was sad because I really wanted to get it, but today I believe that it was one of the best things and life went on. I did some internships in other companies like Yahoo! and MTV and exactly a year later they got in contact with me saying that they remembered me and that they liked my profile and that they wanted to talk to me again because the spot had opened up. So I went there, we talked and I've been working for Puma since.
It's crazy to see the growth of the brand and the changes that happened these years, internally as well as in the sneaker market in general. I entered exactly in a phase of repositioning and change of mindset, I was able to follow Puma renewing the designers and designs of their sneakers, rethinking the colors, the models, the way they communicated their products, dealing with ambassadors and rescuing old products. This in a global and national scale, nowadays when you go out in the streets you see Puma Suede, Basket, Creeper, when before you would only see Puma Discs – I didn't work with the Puma Disc, only with the Puma Suedes (laughs). But today I see the Suede a lot, this is very satisfactory, I feel that my work and the work of the whole team is working. For me, the great secret of Puma is the authenticity of the brand, this is how it wins from others.
The Tsugi for me is one of the best designs of Puma today, but the Suede is still my favorite, this year it turns 50 and it's in its story to go through all possible tribes. It started out as a running shoe, it was on the podium with Tommie Smith at the 1968 Olympics while he was making the symbol of the Black Power movement. The sneaker had a different sole back then, one for racing and that with the time got some changes and received the sole it has today. After, it made its way into skateboarding, the bboy's, the graffiti, the electronic music scene of Europe, among others, it's a hybrid shoe, wherever they go they leave their mark. It's totally timeless, I believe that 50 years from now this sneaker will still make sense.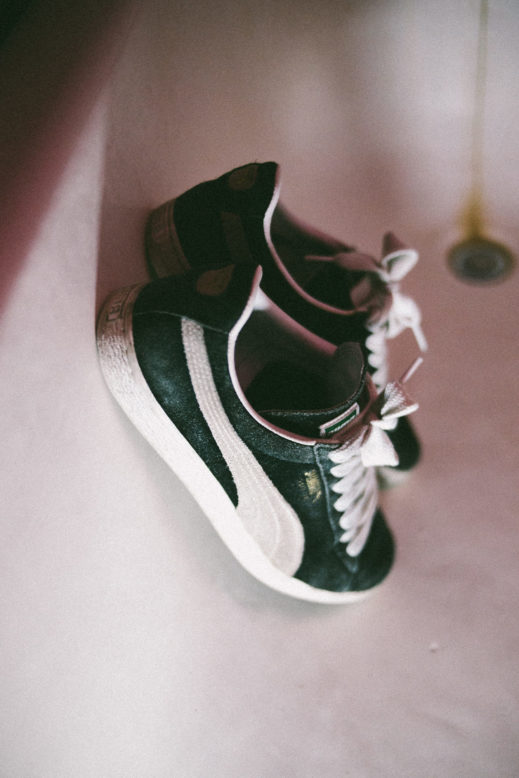 What's your relationship with sneakers in general?
rafaelSneakers are something that I always wore, it has been present in my whole life, besides the fact that I've always loved the very different ones. I remember when I was in the Fourth grade, I bought a pair of orange soccer boots and my mom asked "Are you really going to wear that?" and I said "Mom, I got this", and that's how it goes until today (laughs). A week later all the boys from school were wearing the orange boots, it was really cool.
I got my first actual brand sneakers much later, but I had some cool Rainhas, some different Topper boots, I always liked having the really different sneakers.
Later on I had my sneakerhead faze, where I bought sneakers like crazy, I don't even know if I can consider myself a sneakerhead but I had my sneaker collection back then. Nowadays I'm more conscious and minimalist, I have what I wear and if I don't I'll donate or sell them. But sneakers are like underwear – you have to have a lot (laughs,) and you can't leave the house without them.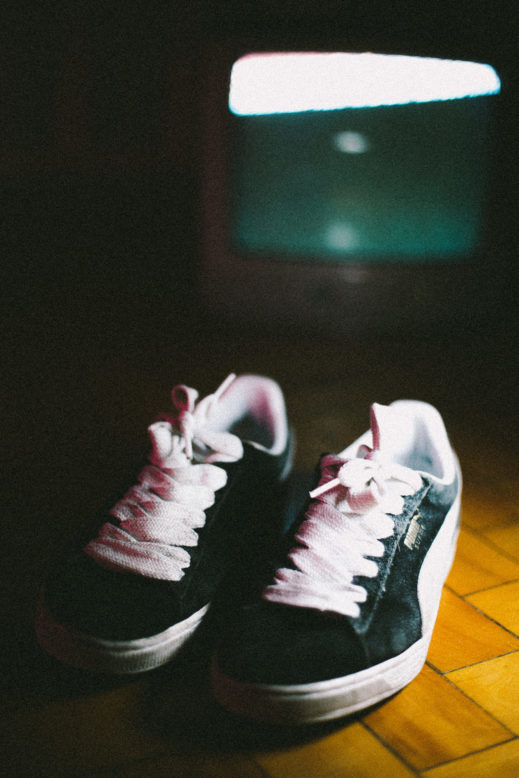 We did the photo shoot in your new apartment, what does this place mean to you?
rafaelI suggested this location because I'm going through a moment of, internal and external, deep changes in my life and I really wanted to register this moment. So this apartment is going to be my home for the years to come and I think it's the perfect spot to talk about stories – I'm starting a new story here.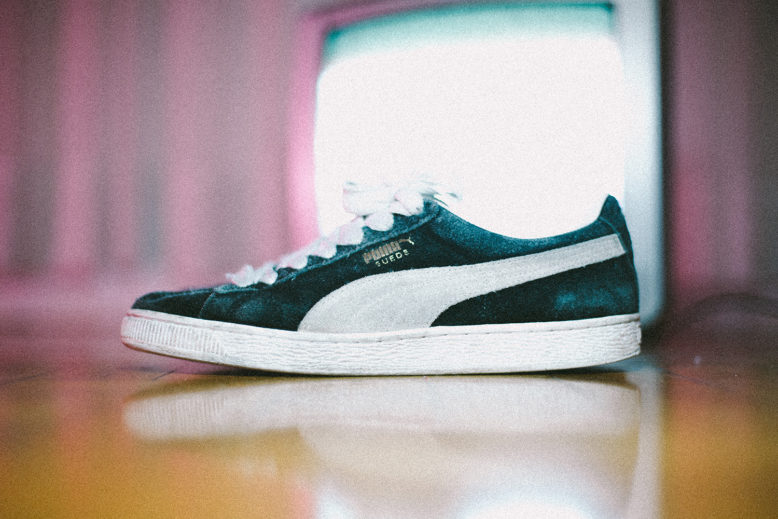 Why did you choose this Pumas Suedes for today's photoshoot?
rafaelThe Puma Suedes have had a strong presence in my life these last few years, I always wore them and they're my favorite sneakers from Puma – you can wear them with anything and they're really comfortable. But this one in specific I chose because I did a 20 day Eurotrip and they were my companions in the rain, the sun, the beach, in everything. And this pair specifically has a lot of stories, even though I've only had them for 2 months, and they're already beat up, but they look just as good and they have all these stories to tell. They've gone through everything with me.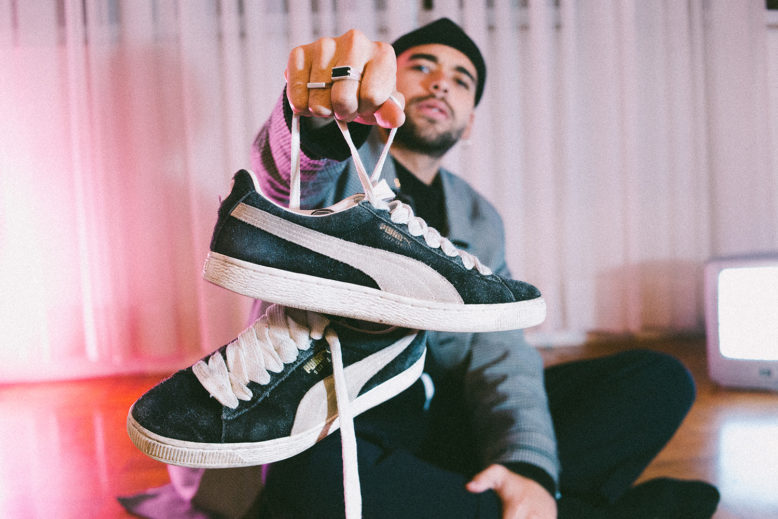 Do you have any stories from the trip with them?
rafaelThere was one day that I decided to go out with boots, I was in Berlin and I walked a lot that day, like really a lot. I got back with my feet fucked up, I had blisters and all that. Them I gave my companion the value he deserved, I never should have left the house without them ( laughs).