Air Force 1! The icon was born in 1982 by the hands of one of the creators of the Air Jordan II and the Sock Racer, Bruce Kilgore. It was the first ever basketball sneaker to feature Air technology, and the only reason you can wear one today is that of 3 Baltimore stores that, because of such a high demand for the shoe from the people, made Nike keep producing the model. The 3 stores owners would be known, later on as The Three Amigos and for some time were the only ones selling the model. And we keep on asking for more till today: this model is one of the sneakers that have the most colorways and special edition ever.
Julia Regina and Rafael Torres are two AF1 lovers. They both won the Nike x I Love Sneakers group contest and they got an interview with Kickstory to tell their stories with the model here on our site.
RAFAEL: My name is Rafael, 34 years old, I graduated in advertising and I work with marketing for a travel website called Melhores Destinos; besides that, I'm also Luigi's father and sneaker addict.  I'm from the West Zone of São Paulo and I've been in love with sneakers since 1999. My first sneaker was a Reebok DMX, they had no shoelaces, there was only a string that you will pull and tighten it with a lace lock. love for sneakers didn't end after this Reebok, it became my addiction.
JULIA: My name is Julia, I'm 20 years old and I'm studying architecture. I started to like sneakers around the middle of last year, and after that, I never stopped. I met a lot of people from the scene and started to go deeper into this universe.
Last year Nike and the Facebook group "I Love Sneakers" held a contest to celebrate Air Force 1's anniversary. There were four winners and you guys got first place. How was this contest and did you guys go to Streetopia or Battle Force?
rafaelI only went to Battle Force.  And about the contest, I didn't even know it was going on, I had just posted a picture of this Air Force1  on the group, and then Vinicius, the group's administrator, saw it and told me to post the story on the group, and that the best story  would get a special gift. So I posted mine and I won! I have them since 2013 and my story with this sneaker is really intimate. it's so has gotten all yellow but that's just part of it,  I take really good care of them. There was this once I caught my son almost scribbling on them, and I almost had a heart attack (laughs).
My cousin was the one who showed me the Air Force 1 for the first time in 2012. So I saved money from 2012 till 2013,  because I needed those sneakers, and then I finally bought them. My cousin passed away 2 years ago and this Air Force One reminds me of him,  and that's why I have such a strong relationship with this sneaker, it really marked me. This year I want to get an Air Force 1 tattooed on my arm.  And besides that, I want to buy another one so I can put this one on a frame and hang it up. This one you have to keep, so you'll remember it forever.
juliaI posted two pictures on the group, one was with this one and the other was a pink camo one I got from my friends from college – they all gave a bit of money so they could get me one for my birthday. I was checking out the group,  and I saw everybody posting their stories for Force Fridays. So I showed the Force Friday thing to Tiago Borges, who has already done a Kickstory with you guys, and I said " check this out, isn't this cool?", and he was like "why don't you post something and see what happens?". So I posted these two pictures and it's super worked!  And now we're here (laughs).
Júlia, you told us that the Air Force One is your favorite model, can you explain why? What is it about this shoe that is so special to you?
juliaI used to love all sneakers, I had a little bit of each. And as time passed,  every time I would go to the store my attention would always go to the Air Force,  I would always pick them, none of the other models seem to matter, they were not as cool. When  I bought my first Air Force 1s and I put them on I felt this insane comfort, they really hugged my feet, you know? after that every time I go into a store or a new Collection comes out,  I try to get one, you get so desperate, you know? I wasn't able to get anything from these new collections, but that's okay, it happens (laughs).

The coolest thing was that, in 2017 and 2018, Nike really invested in making women's Air Force 1s. What was the first Air Force 1 you got?
juliaJust for this model,  the Jester, they made four or five different colorways, and that's super cool. The first one I got was this really premium leather one, and I wore them a bunch of times but they still have that new smell of leather, you open the box and you just feel that smell,  it's amazing. After that one, I never stopped, and now I only buy Air Force 1s.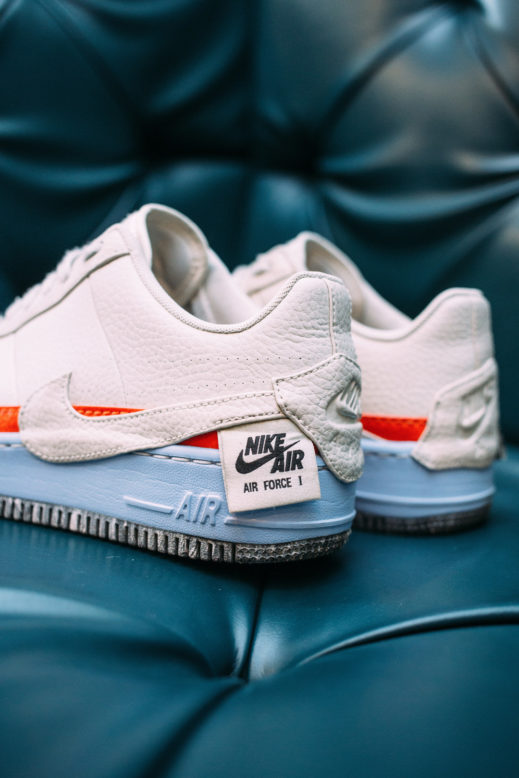 And Rafael, you really like basketball sneakers right? And the Air Force 1 was made specifically for basketball, and later on became a street culture icon.
rafael Yes,  that's even one of the reasons why I bought them,  because of its story. After I got these I got some Jordans, LeBrons, a Kobe. Air Force One really holds up nice on your feet, not to mention the Comfort that Júlia talked about, the comfort and durability of this sneaker are incredible.
juliaIt's funny because ice talk about the comfort of the Air Force 1 all the time,  but most people that put them on think they are hard, and they always ask me how can I wear them (laughs).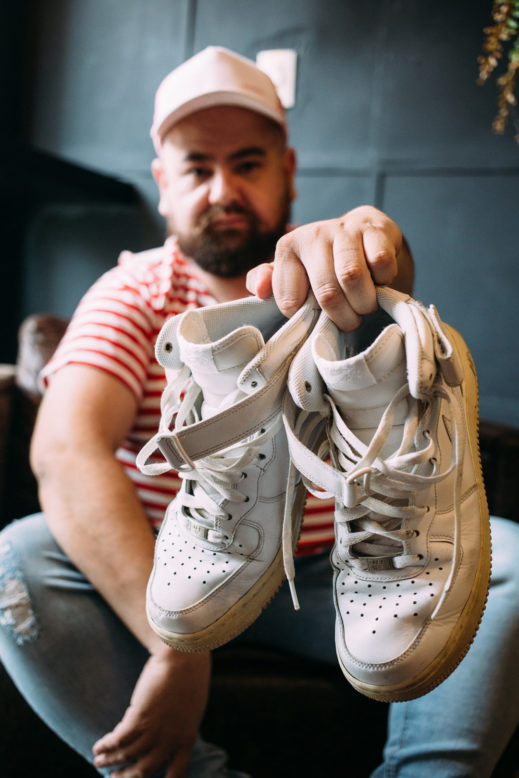 "I also wore them during my civil wedding, when my son was born and all the most memorable stories of my life I had them on. And it's off Natural, I never planned any of it, it just happens. The passion is real"
The Air Force 1 has this very particular characteristic: when you buy the white on whites or the black on black, you need at least 3 days to break them in, for them to get comfortable. They're not comfortable in the sense that, you put them on and you feel like you're stepping on a cloud, it's a sneaker that you can wear the entire day and don't even remember you're actually wearing sneakers, they are comfortable in the long run, that's what's dope. And to wrap things up, Rafael, why is this Air Force so important to you?
rafaelMy cousin Pepe, introduce me to the shoe in 2012. In 2013 I saved my money so I could buy this one. It was love at first sight.  After that, I never took them off. Besides working with advertising, I'm also a musician, I play the guitar, and I met my wife during a concert in church while I was wearing these Air Forces; I also wore them during my civil wedding, when my son was born and all the most memorable stories of my life I had them on. And it's off Natural, I never planned any of it, it just happens. The passion is real, as I said before I want to frame this one, and buy another one, so I can keep this one forever.
And you Júlia, why out of your 7 Air Forces did you pick this Jester XX?
JuliaI went to buy this one ride after I got my first Air Force. I Randy wanted them so I asked my father if he could give me them,  and he said: "forget it, no way I'm getting you a new pair of sneakers, figure it out if you want them you get the money and buy them". I was going crazy because they were starting to sell out really fast, and I really needed these sneakers.  So I started saving up on a lot of stuff and I would sell some things to raise some money, until this day that I thought " I need to get them now or else there won't be none left" – they were already sold out on the website and in most stores. I managed to find the last pair in my size at Morumbi's  Artwalk, so I called the store and asked them to hold them on for me because I was coming to get them. I still need it like R$ 100 so I could buy them, so I said to my father " I only need 100 bucks, if you give me the money I'll be the happiest person in the world", I begged them so much that he gave me the money just so I'd leave him alone!
I called a friend that is also in love with sneakers, and ask him to come to the store with me.  When I got there I put them on and I said to the guy "you don't even have to cook them back in the box, I'm wearing them out the store" and I left with them on my feet, I was so happy.  After that, I never took them off. I had them on the real many memorable moments, and I even had them on during the Nike events.