Tico has always liked and lived skate culture, he lived in California and Sydney where he learned more about the lifestyle. Today he is a product trainer for @adidasoriginals, working in stores all over Brasil. In our interview, he told why he likes @pharrell 's Tennis Hu line so much and his relationship with the brand.
"My name is Tico Aquino, I'm 34 years old, I work with product training for Adidas Originals, I'm responsible for Adidas Originals training in Brazil as a whole. I travel the entire country to do training in various retail stores and actual Adidas Originals Stores. I've worked with fashion for 18 years, I started working when I was 14 at a surf shop, then I spent a while working for the Big Brands group with brands like  MCD, Globe e Lost; I took care of training for Globe and MCD.
In 2012 I lived in California, in the US, to study English and I lived the whole skateboarding and surfing lifestyle which are two things that I really like. From California I went to Australia where I lived almost 2 and a half years, where I got to know more about street culture, which is very strong there – including one of the most beautiful shops I've ever seen in life,Culture Kings, the store has the largest wall of hats I've ever seen in life, it has over a thousand different caps! The store is insane, a lot of rappers usually go there, some even say Chris Brown is one of the partners.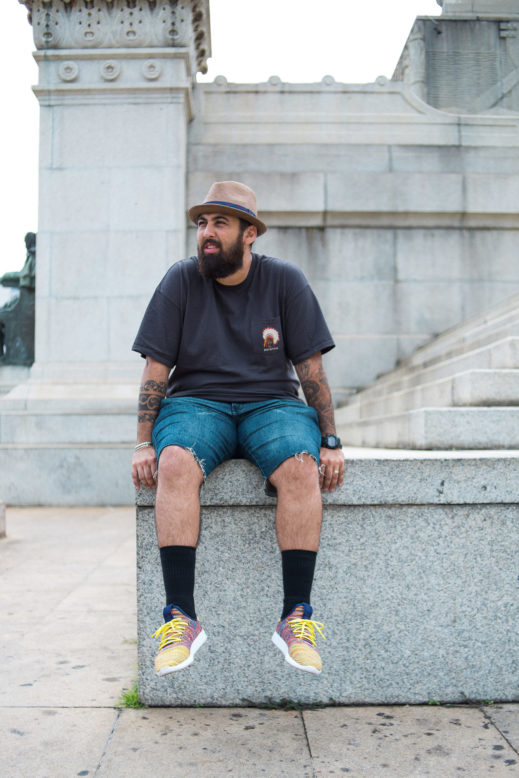 At the end of 2014, I went back to Brazil, I got into a project to work for a company that was going to bring some brands to Brazil, brands like Starter, Billionaire Boys Club, Ice Cream, Rocawear e Mitchell & Ness. Bbc and Ice Cream are Pharrell's skateboard brands and that's when I started to learn about his universe. I liked him and followed him since the Beautiful  video with Snoop Dogg. I think Pharrell is a complete dude, I admire him a lot. He's a guy who does not get stuck in a single universe, he talks to skaters, to fashion people, musicians, that always caught my attention."
What's your relationship with sneakers in general?
ticoMy relationship with sneakers started just like it started for any guy from my generation, who grew up in the 80's and 90's. I'm from the time where we would watch NBA on Band narrated by Luciano do Vale. I saw that wonderful  Chicago Bulls team with Scottie Pippen, Jordan, Dennis Rodman, Toni Kukoc who was gigantic as well; I saw Charles Barkley playing for the Phoenix Suns; Patrick Ewing for the New York Knicks; the  Utah Jazz with Karl Malone and John Stockton.
I didn't play basketball, but I really liked it. In high school, I wanted basketball shoes and the first one I got ware Scottie Pippen shoes, they were all black with some white and red details, and they had the Chicago Bulls logo. Then I got a Patrick Ewing that had a basketball on the tongue, the sneaker had the New York Knicks color – white, blue and orange. That's how my story with sneakers began.
Later on, I worked at Globe, an Australian brand that was focused on shoes, Globe Shoes, then the love only grew. Then I started to notice details, product, technology, finishing, pro models with athletes such as Chris Haslam, Mark Appleyard, Ryan Decenzo, the Brazilian Luan de Oliveira, who started out as Globe athlete -it was a shame that he didn't get a pro model, but he left as amateur and then turned pro; so I had all the contact with those sneakers.
And why did you choose this Pharrell Williams Tennis Hu Pk for today's photoshoot?
ticoOne because I think this multicolor colorway is spectacular and if you stop to think about it no one has anything like it, especially being made out of primeknit, which is Adidas technological knit. When I came back from Australia, for that project of bringing those brands, BBC and Ice Cream, they had a giant book with Pharrell's biography and history, the guys from abroad gave us this book to study and as reference. Then I began to understand the whole context that Pharrell was about, like he also skated, liked sports, he always wanted to have his own brand, so he created Ice Cream and then BBC. A very important factor is that Nigo, who was one of the guys who created Bape, also developed BBC with Pharrell – they are very close friends till now.
They also created Human Made and Pharrell has a very human side to him, he believes that the human being is the most important things in the whole universe – that's why his shoes are called Human. You can see that the logo on the tongue is a triangle with the "Hu" written inside, with the same font used in the periodic table – as if it were a chemical element. So is the symbol of equality, all products in partnership with Adidas have the symbol of equality because according to him all human beings are equals.
This was a sneaker that I really wanted, what I actually wanted was the NMD multicolor, I didn't get it, but when this one came out, which was a model slightly easier to get, I got it – this colorway is very limited, when it dripped it sold out super fast, and there was no restock, you only get them through resellers and online markets. It's a very unique and different model, that's why I chose them, I have a very big affection for them, it is so that I only use them on special occasions.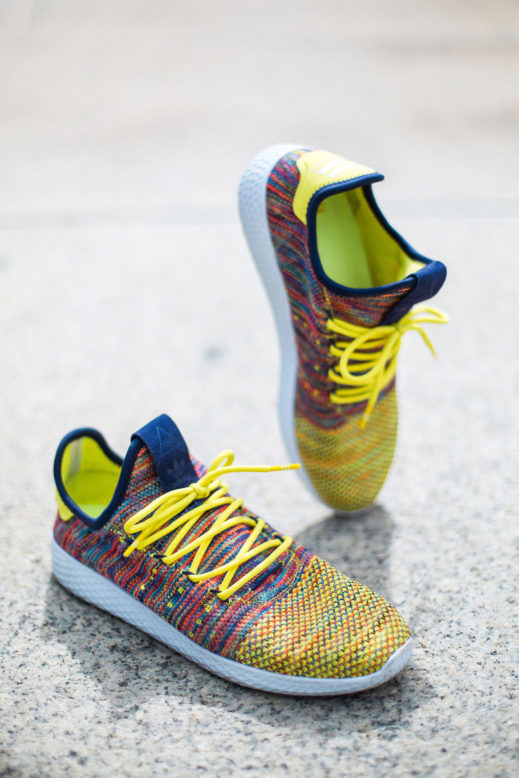 Do you have any stories with them?
ticoNowadays I only use them when I'm doing some special training, for a big audience, when I go somewhere that I know nobody will step on them. Because whether you like it or not, it is a shoe that has that light and "subtle" feel to it, so I take real good care of them, and you know, if I ruin them, its very unlikely that I'll find another one. For example, I've never seen anyone else wearing one.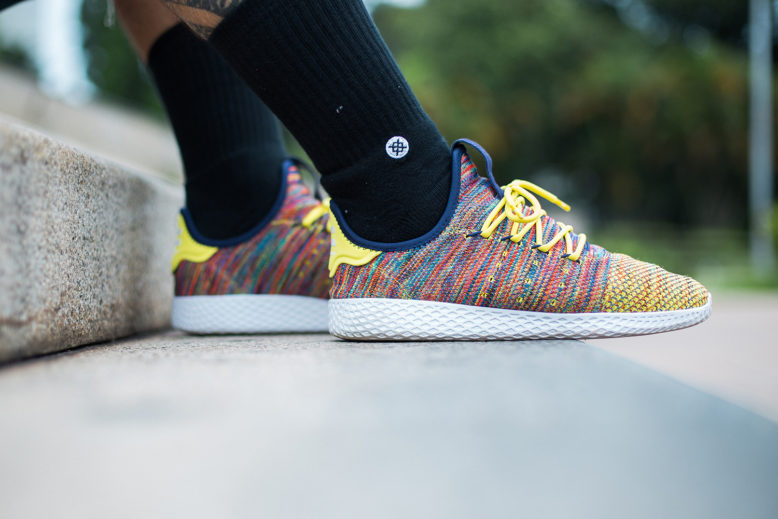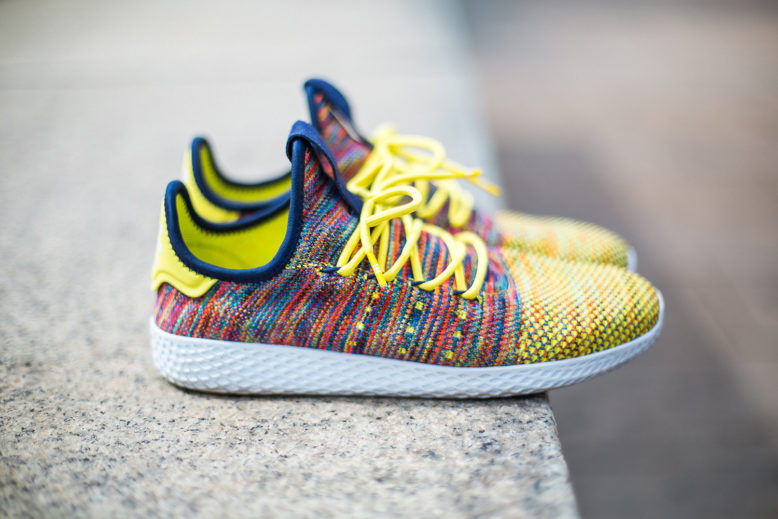 Is there any specific sneaker that you would like to have someday?
ticoI like sneakers that nobody has, so, for example, all that "hype" stuff, I think it's cool but it's like a uniform – in the end, everyone looks the same, with their little bags, Supreme T-shirt and a Yeezys on their feet. Palace , for example, which is a European skateboard brand, I've known this brand for a long time and no one had ever said anything about it – and out of nowhere came the boom, everyone was wearing it.
I don't have this thing where I a sneaker of my dreams, only if it was to have some very old ones like the M2000, Le Cheval, Dharma, that were sneakers that were cheap at the time but it would be damn awesome to have today.